Joel & Tash in the Opal Gown
​Not even COVID restrictions could dull the sparkle of shimmering #GRACEBride Tash, in our Opal gown. A glimpse of Tash & Joel's intimate sunset wedding along the Australian Creekside.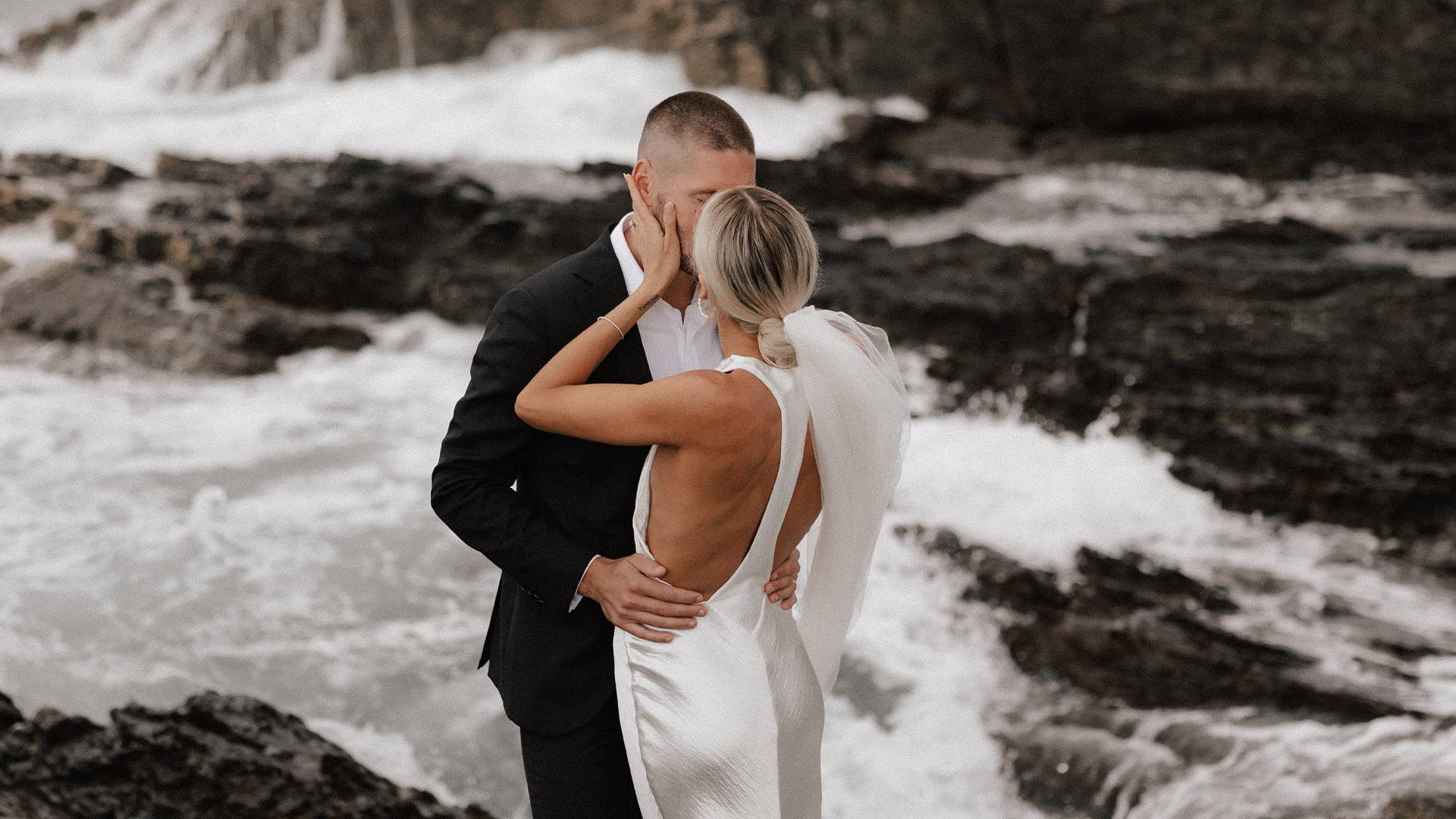 What is a Grace Woman to you?
Someone who is authentically themselves; loves passionately, gives generously, and laughs contagiously!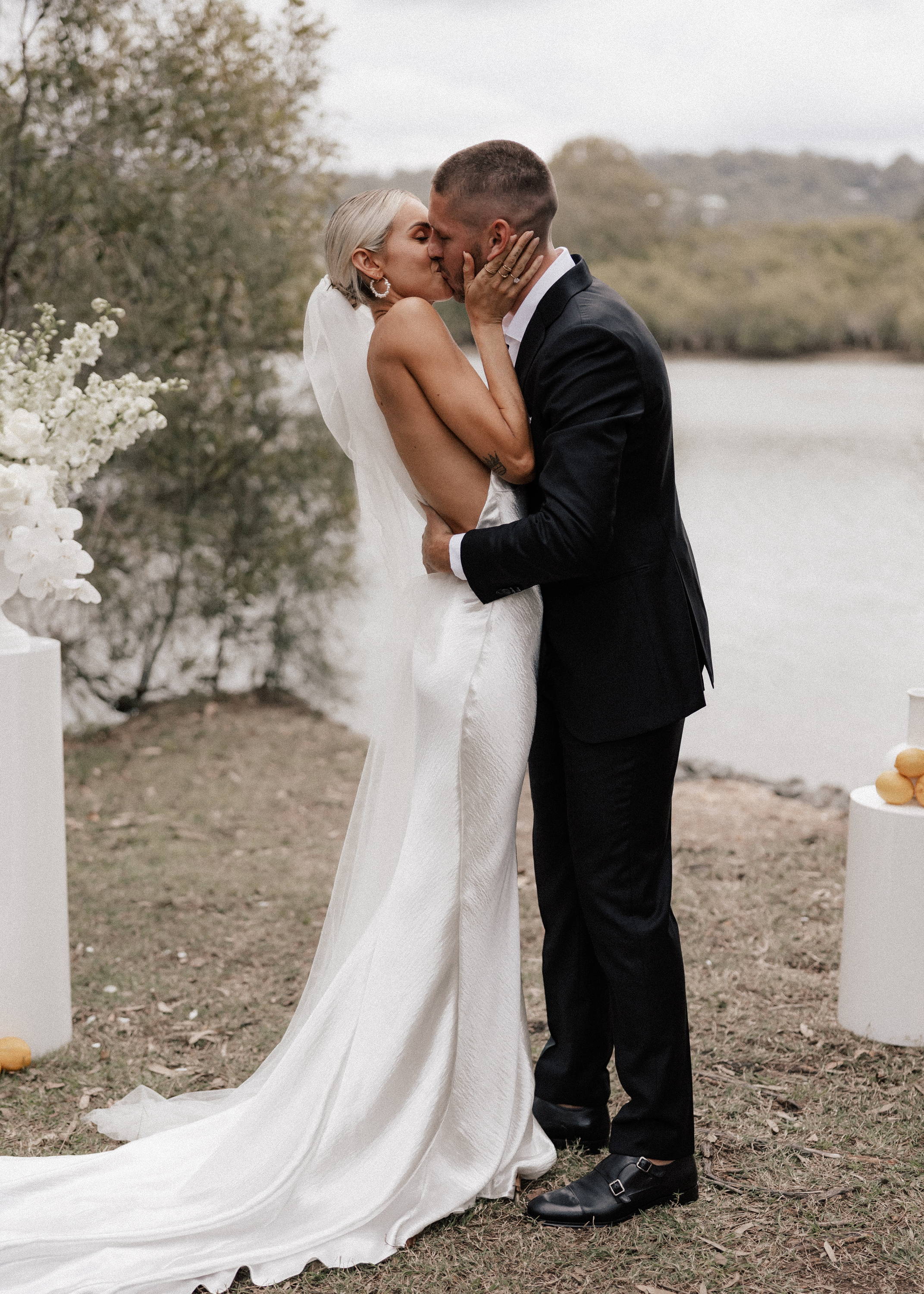 Which Grace dress did you choose and how did you know it was 'The One'?
I chose the OPAL dress! I love the modern, silky material that drops to the floor and shimmers like an Opal. I always knew I wanted something with a glamorous edge but still keeping to modern minimalism.
---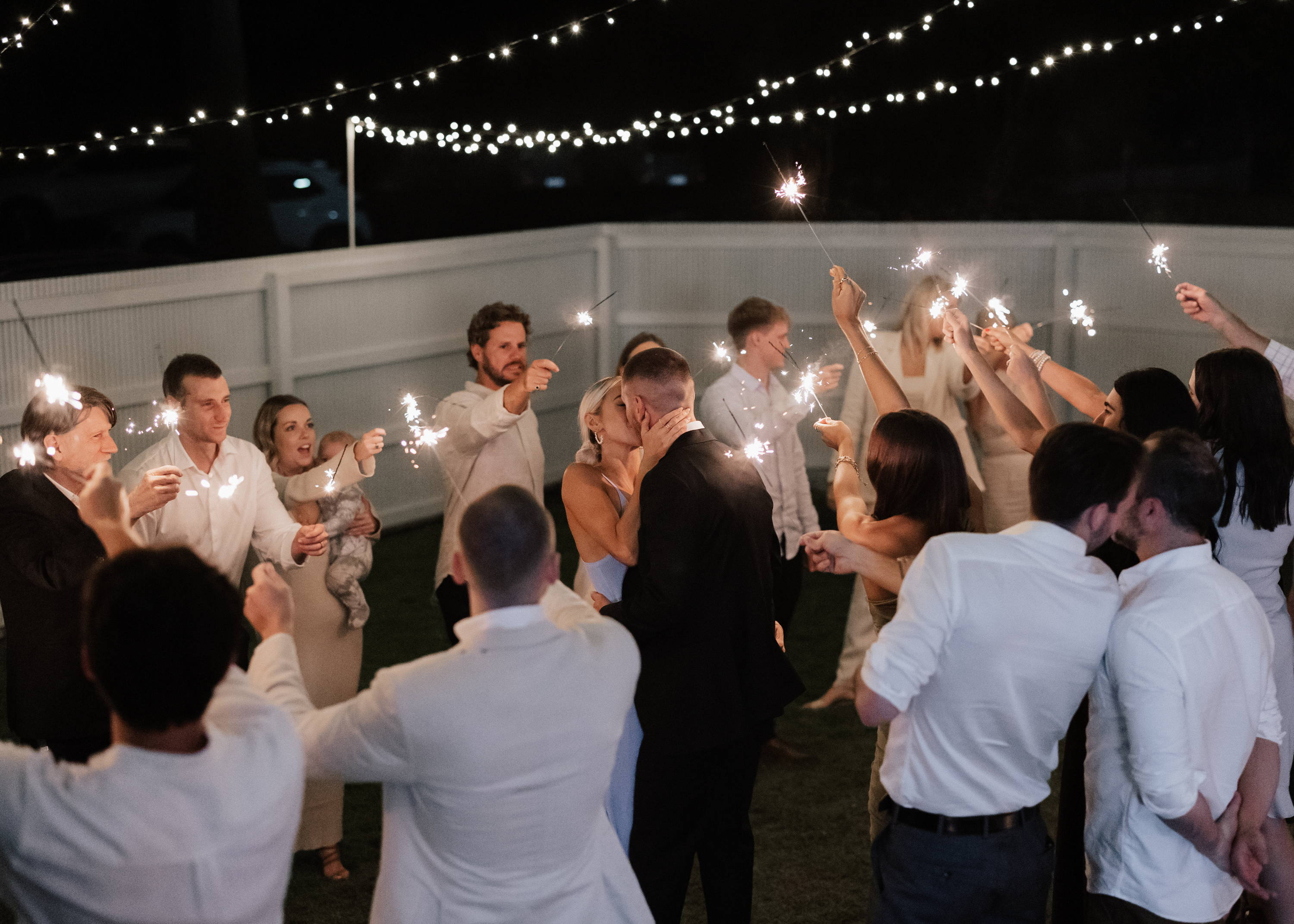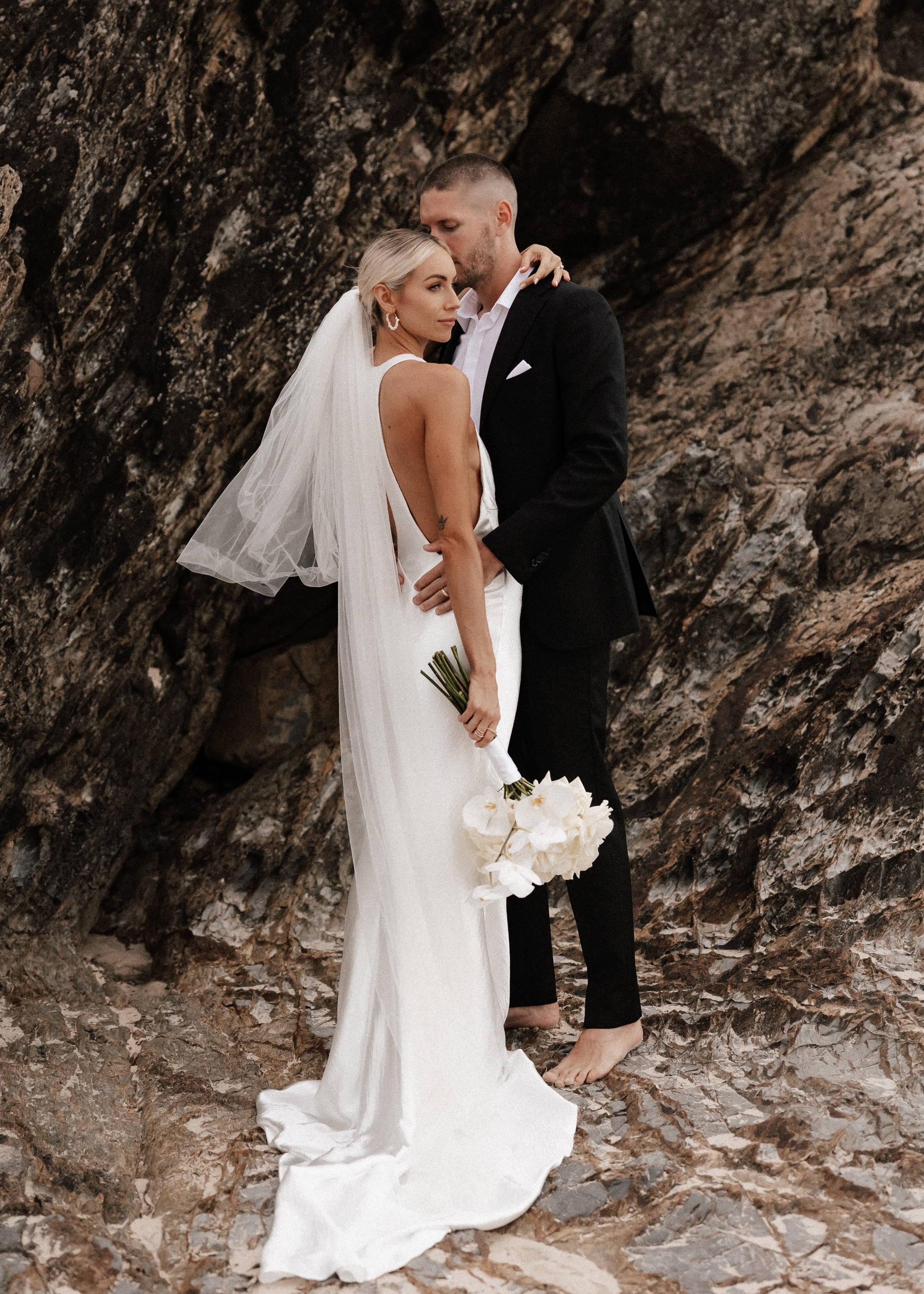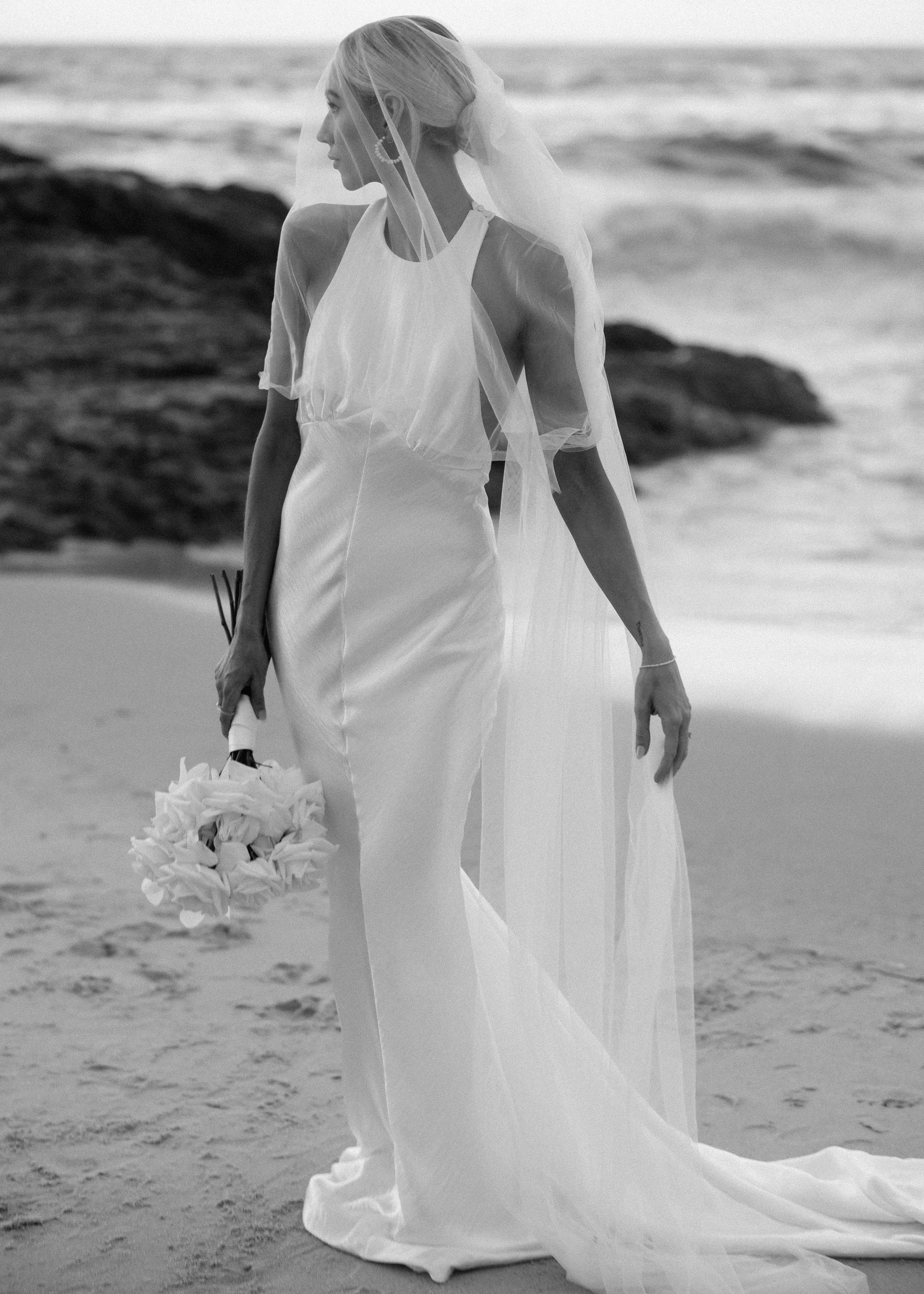 Tell us about your experience when you found your dress, did you buy your wedding dress online or in one of our showrooms?
I actually chose and bought this dress online when I was stuck in lockdown. I did not get to experience the fun of going and trying on dresses but when I found this dress, with the help of my close girlfriend confirming it was "The One", I knew I wasn't missing out on anything. The dress arrived 2 weeks before my wedding and was everything I'd dreamt of and more!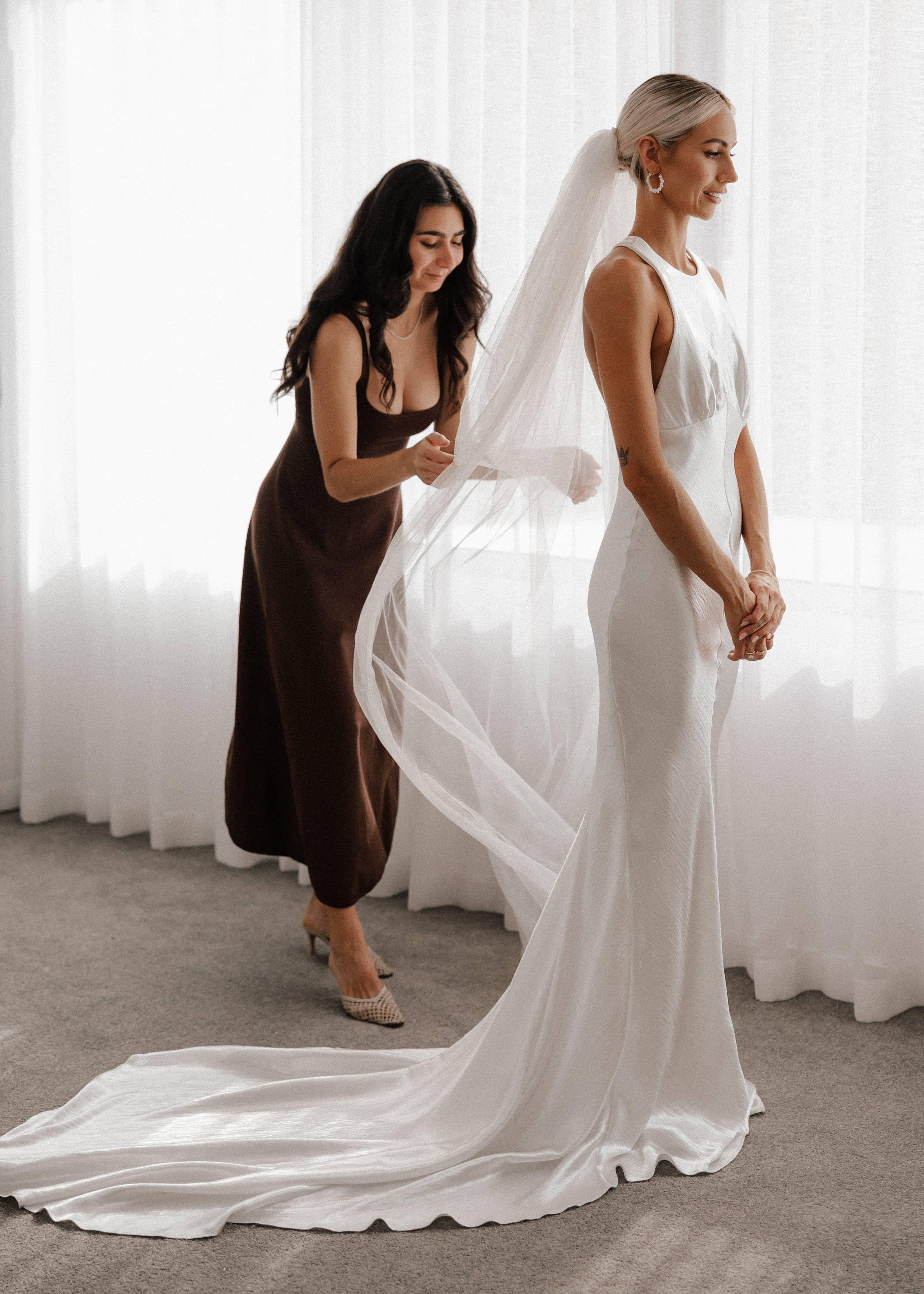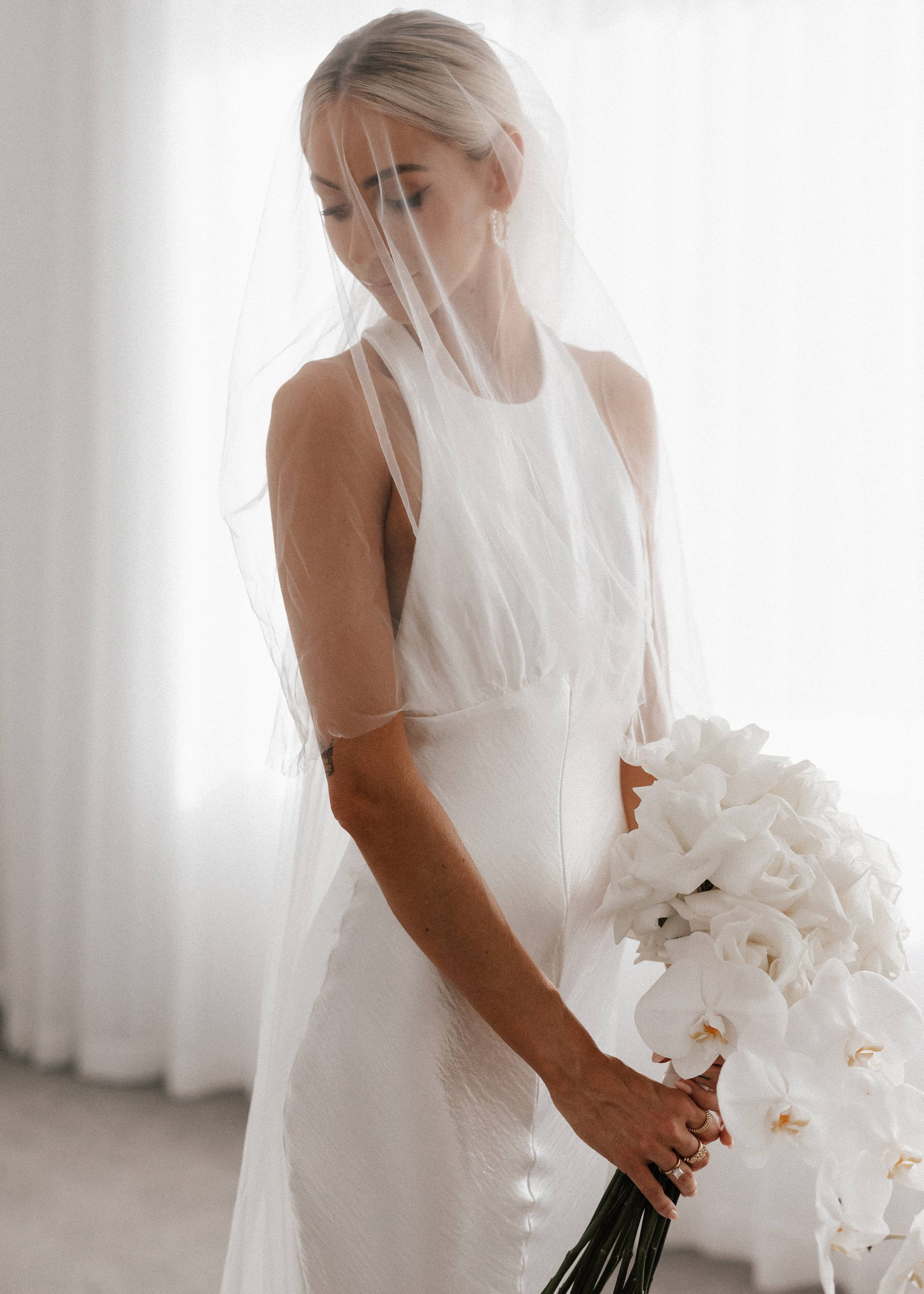 How did you feel in your dress on the day?
I honestly felt like an Angel! Haha. Is that strange to say about myself? Well, it's true; the dress made me feel so confident and beautiful.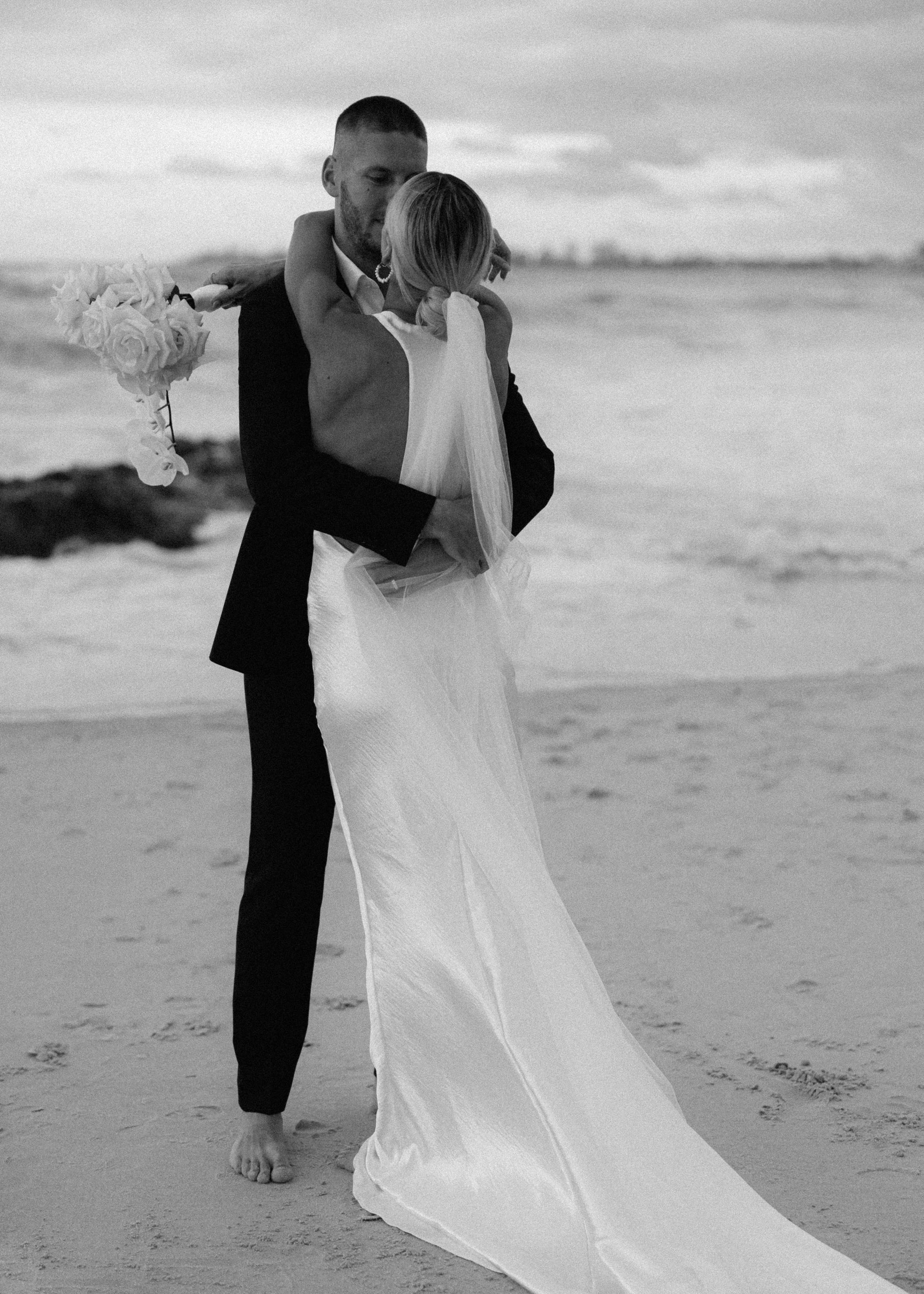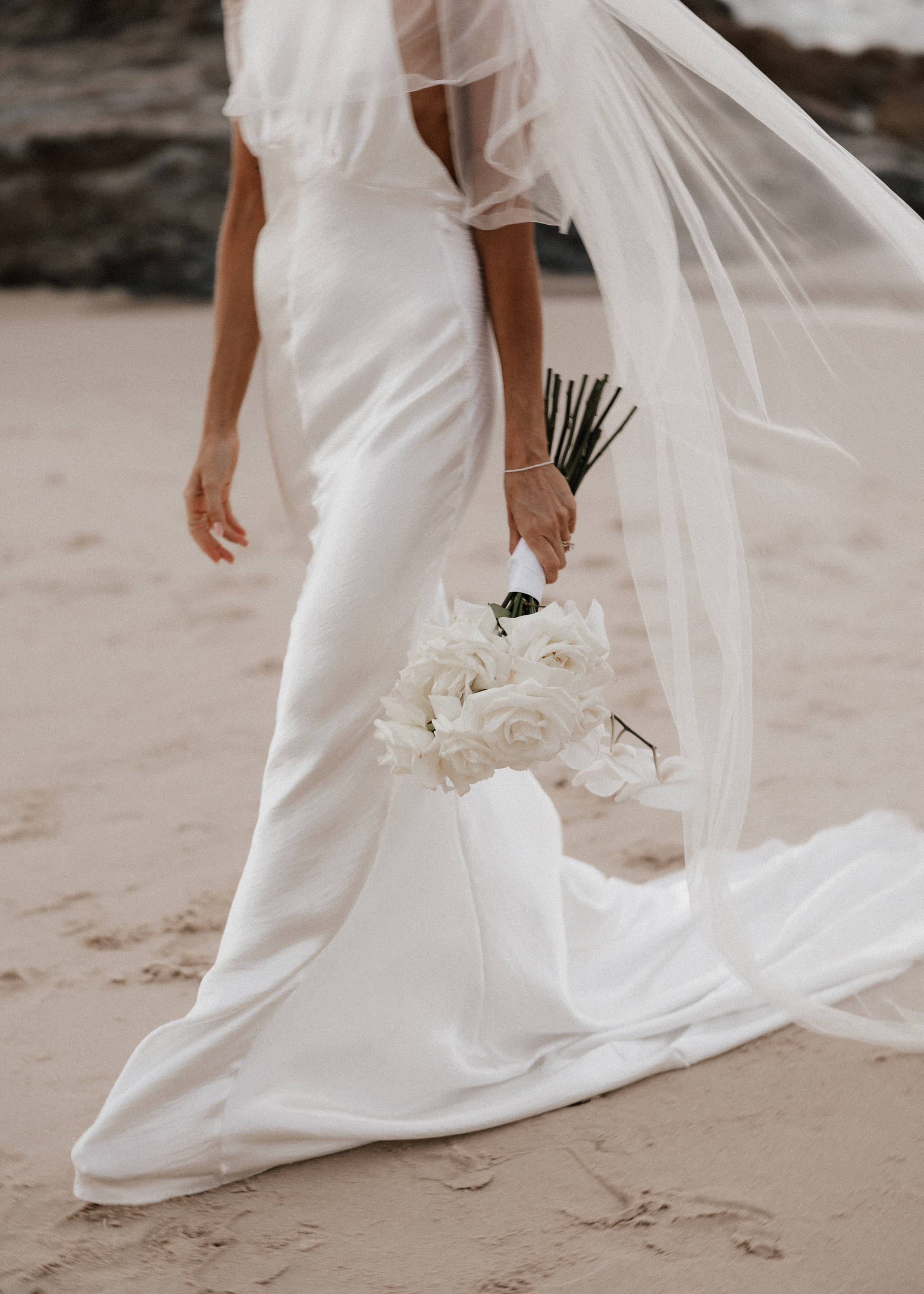 Where did you get married?
Tell us about the location & the style of your wedding day.
I wanted to keep the wedding small and intimate. We had only 24 guests for a beautiful sit down dinner. We got married in Currumbin Waters. Specifically, our ceremony on the Currumbin Creek right in front of our friend's property where we had the reception. It couldn't have been more perfect. We had changed our wedding location a couple of times due to COVID, but this was better than anything we could have imagined before. Stylistically I wanted a minimalist vibe, with touches of Tuscan detailing, and kisses of colour through floral arrangements.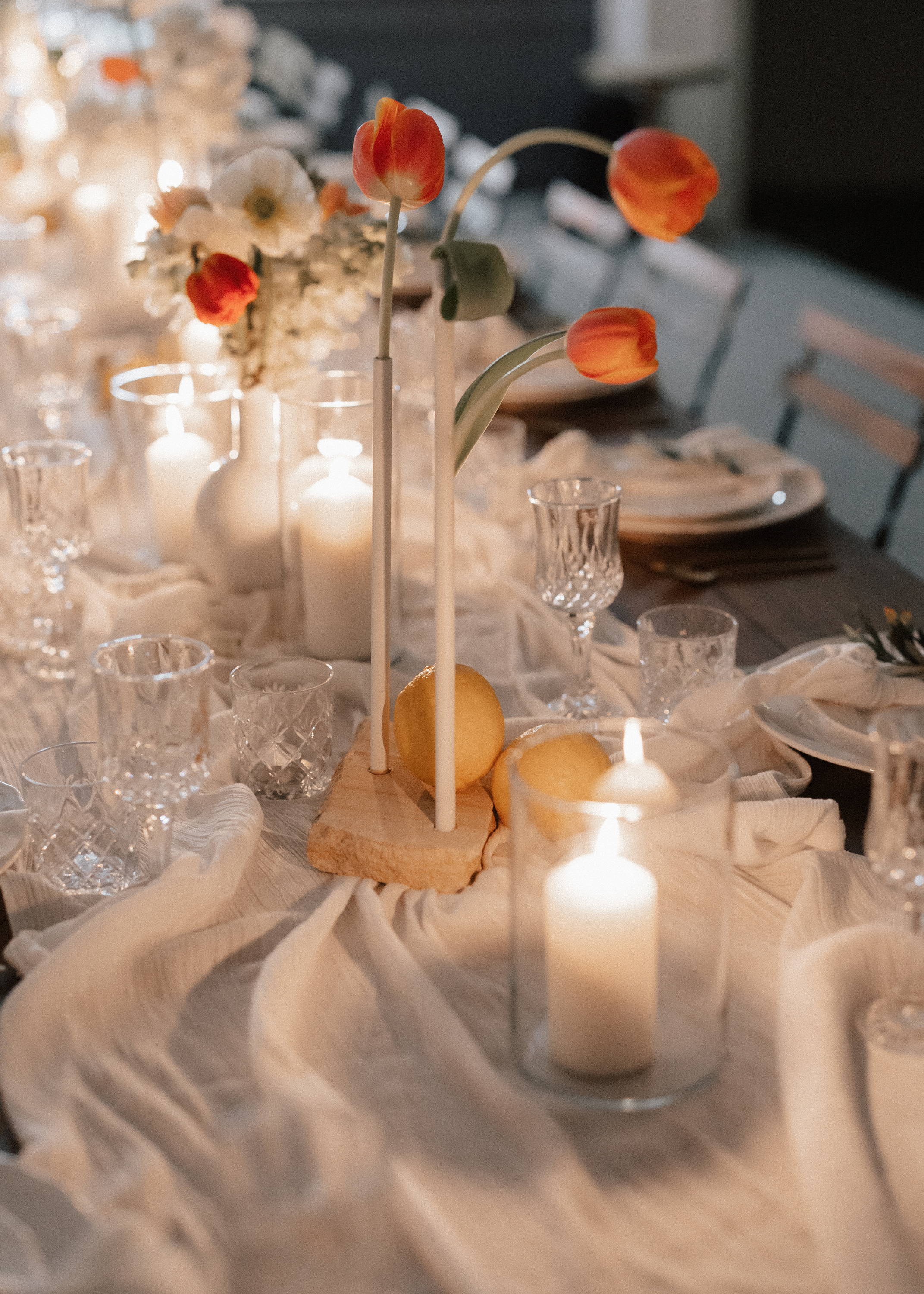 ---
Tell us about your hair and makeup look
and the accessories you chose…
My husband loves my hair in a sleek low bun, so it was only fair to do his favorite style on the day! Plus, having a low bun was perfect to see the detailing of the back of the dress. I wore gorgeous pearl hoops and some thin gold bands across my fingers!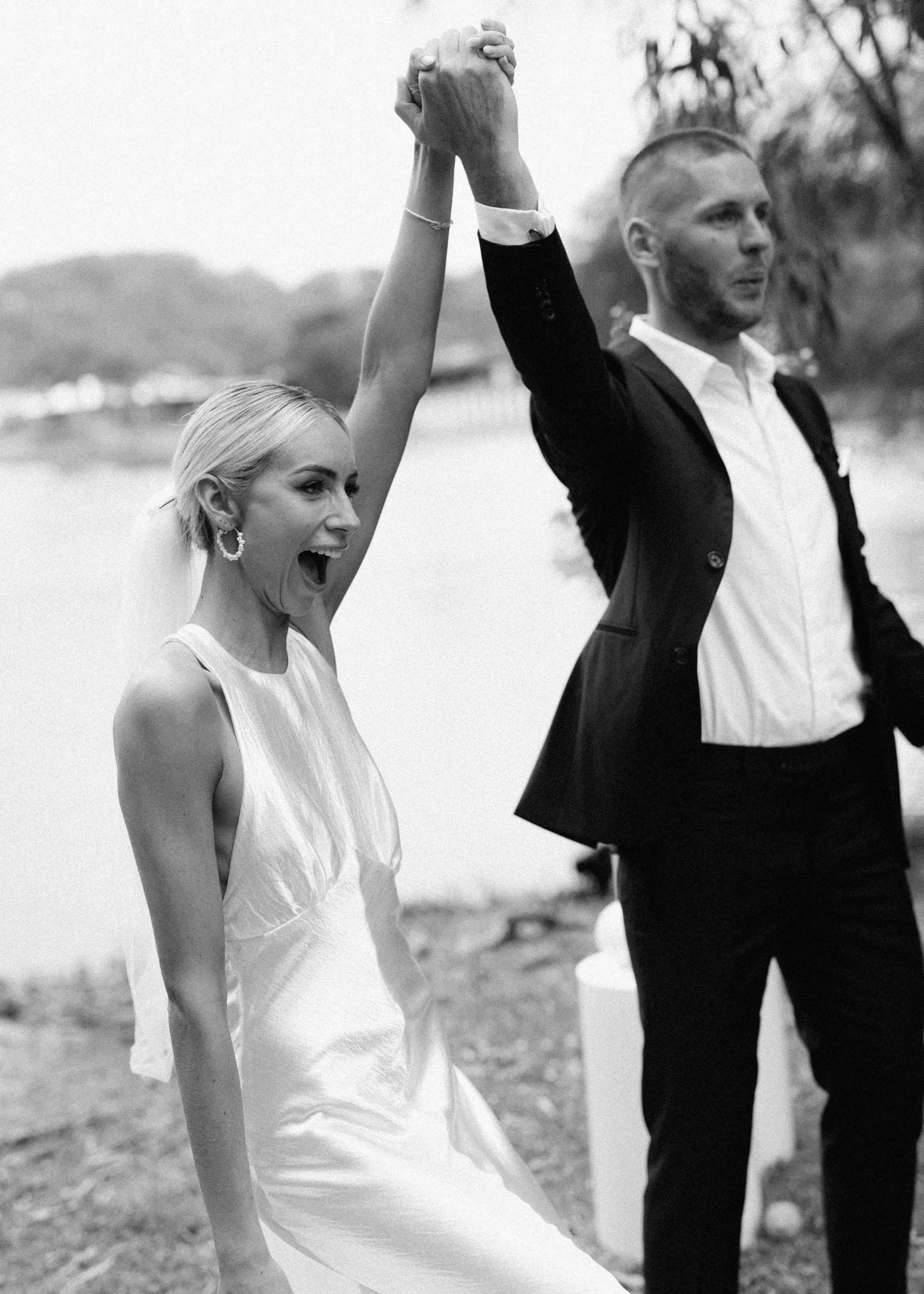 ---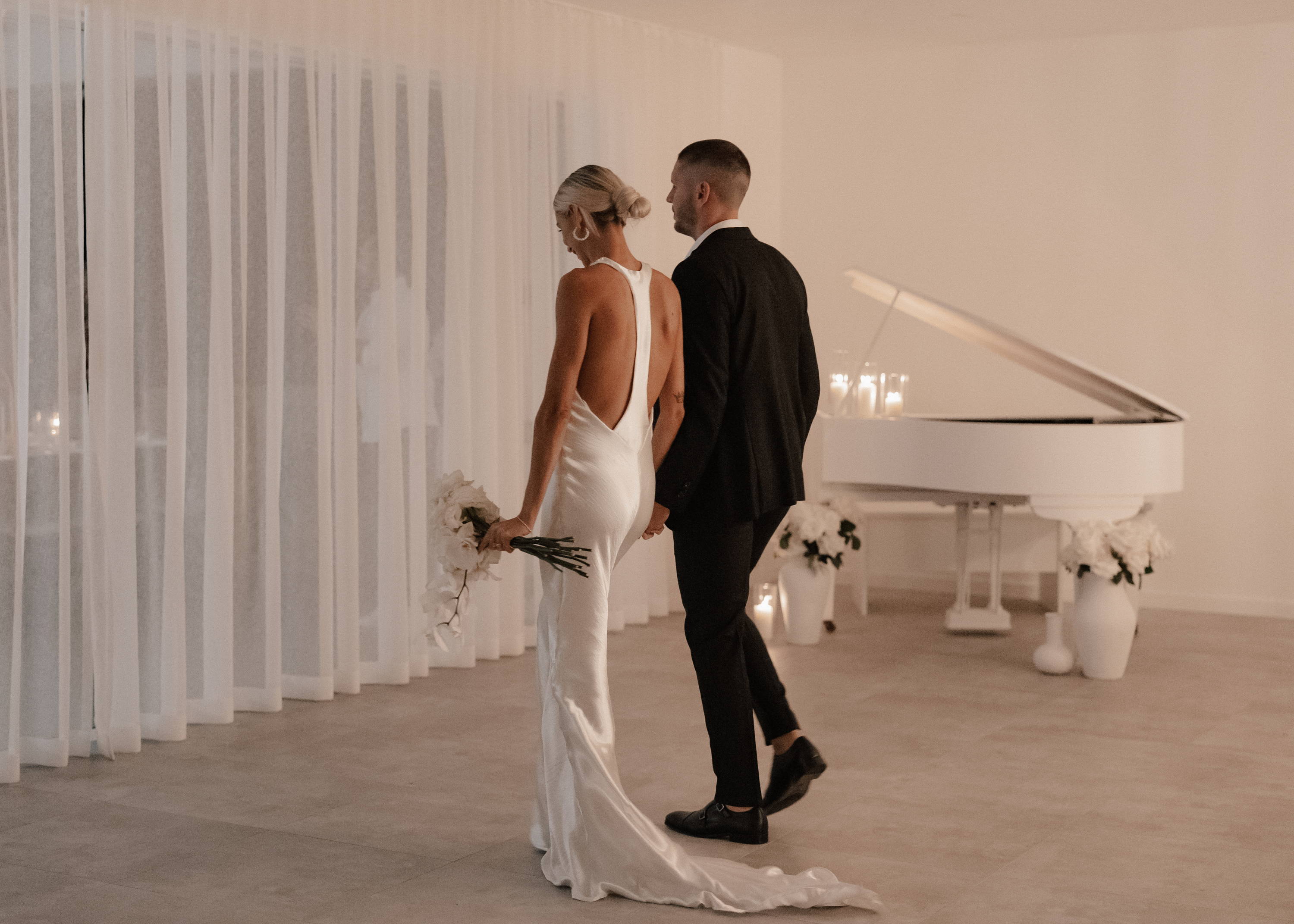 What made your day extra special?
Two of our closest friends who have been a huge part of our lives couldn't come to the wedding as they were stuck over the border. It was heartbreaking for us to not have them there in person, but we facetimed them in for a wedding speech, and this made the night for both of us. It was a super emotional moment!
The funniest moment on the day was…
Our first dance! It was so special but also so awkward! Haha we are NOT dancers and Joel is soooo uncomfortable doing anything like that in front of ME, let alone a crowd of people. He did so well though. We stuck to the classic "sway & spin" haha.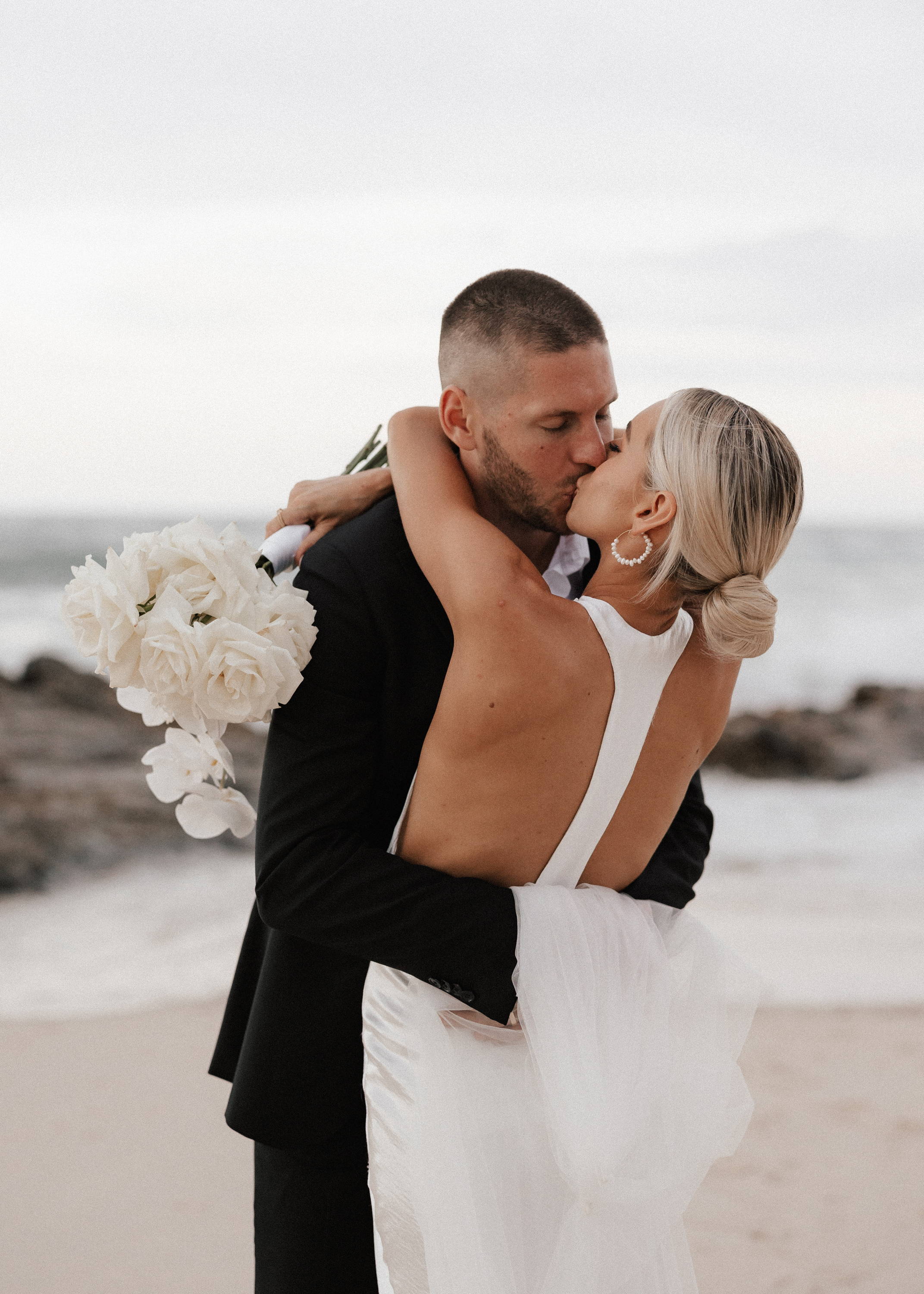 Where will you be honeymooning?
We went to Hamilton Island for 5 days!
Any last advice or words of wisdom that you can share…
Everybody says it, but take in as much of the day as you can! It truly does go to fast!! I also wish I took more photos with my guests! I suppose it's a good thing because I was so swept up in the moment, but I definitely would say to brides to put aside time to photograph the silly and fun moments with your guests! It's a memory you will cherish forever!



CEREMONY VENUE: PRIVATE HOME
FLORIST: MYSELF & MY BEST FRIEND!
HAIR STYLIST: MY SISTER!