Shane and Savanna in the Loyola Set
Read the interview with #GRACEBride Savanna who outfitted her entire look in GRACE for her breathtaking wedding at The Kelley Farm in Bonney Lake, Washington.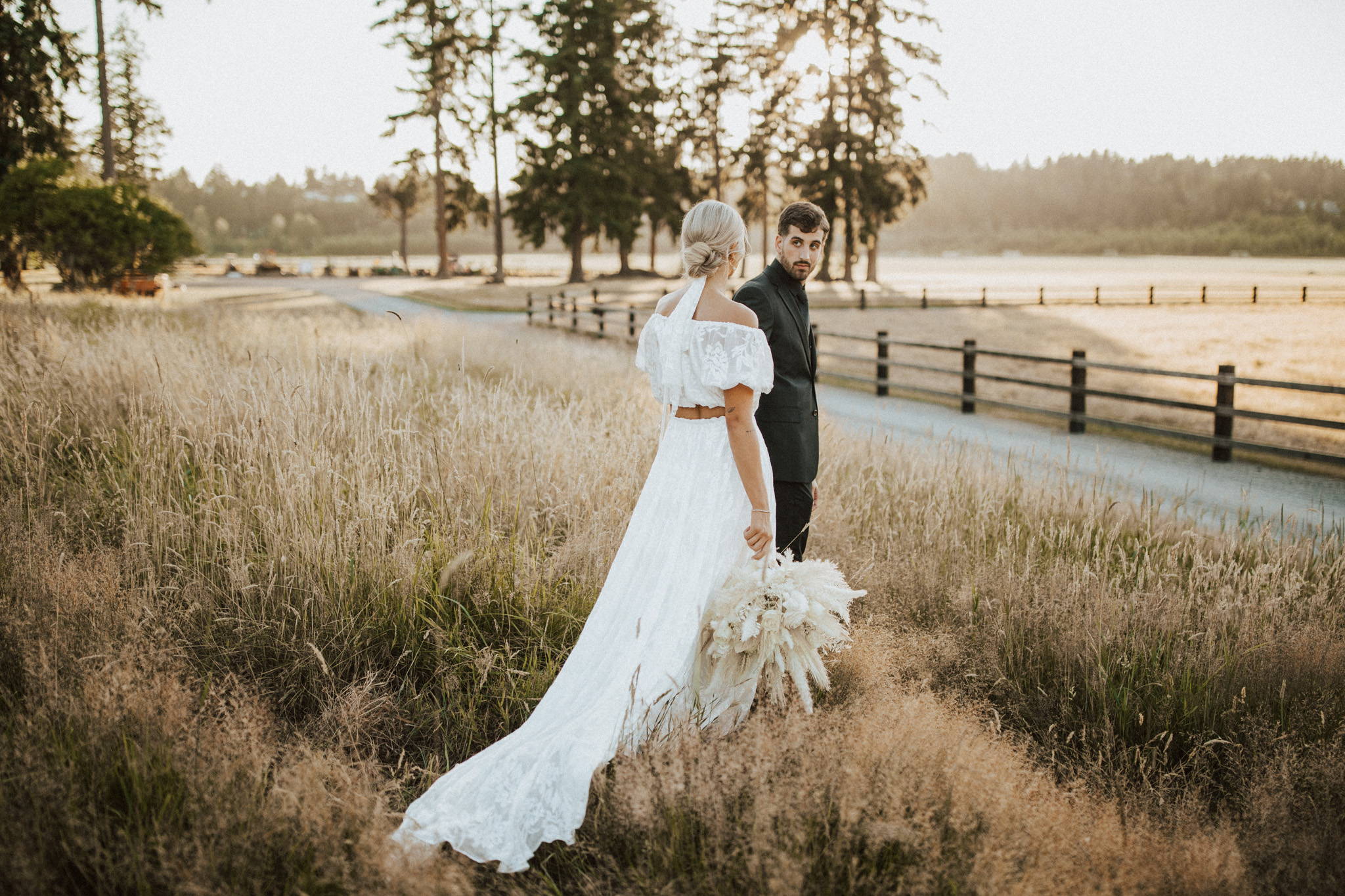 What is a Grace Woman to you?
In essence, I believe that being a Grace woman is described as a women who exemplifies not only outward             beauty but internal beauty, kindness, and composure as well. A Grace woman carries herself with                             confidence and exudes what it means to be a woman of class and style. I also believe that it depicts                       uniqueness and a desire to represent grace and poise.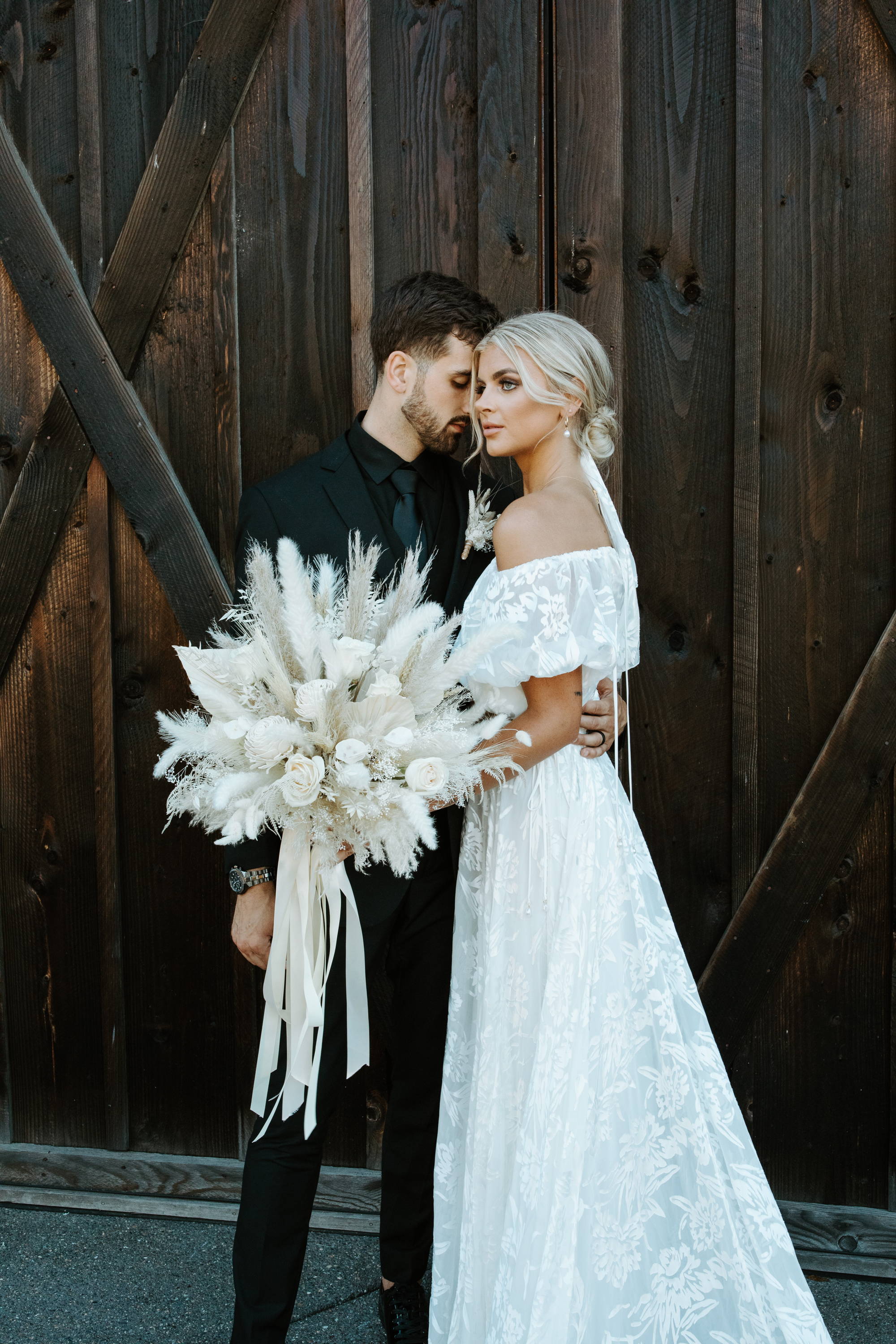 Which Grace dress did you choose and how did you know it was 'The One'?
I have been looking at Grace Loves Lace gowns since I was in 8th grade and I always knew that I wanted a two-piece dress, I had never seen a company with a dress like that and I knew even back then that I would be wearing a Grace Loves Lace dress in my wedding! I chose the Loyola set with the matching veil and hair scarf. When I first tried it on, I had never felt so confident or beautiful in a dress, I looked over and saw that both my mother and sister were crying and I knew that it was the one for me. My favorite thing about the dress is how comfortable and effortless it was to wear it, I never felt like it was a dress I needed to fit into, I felt like it was tailored perfectly to me.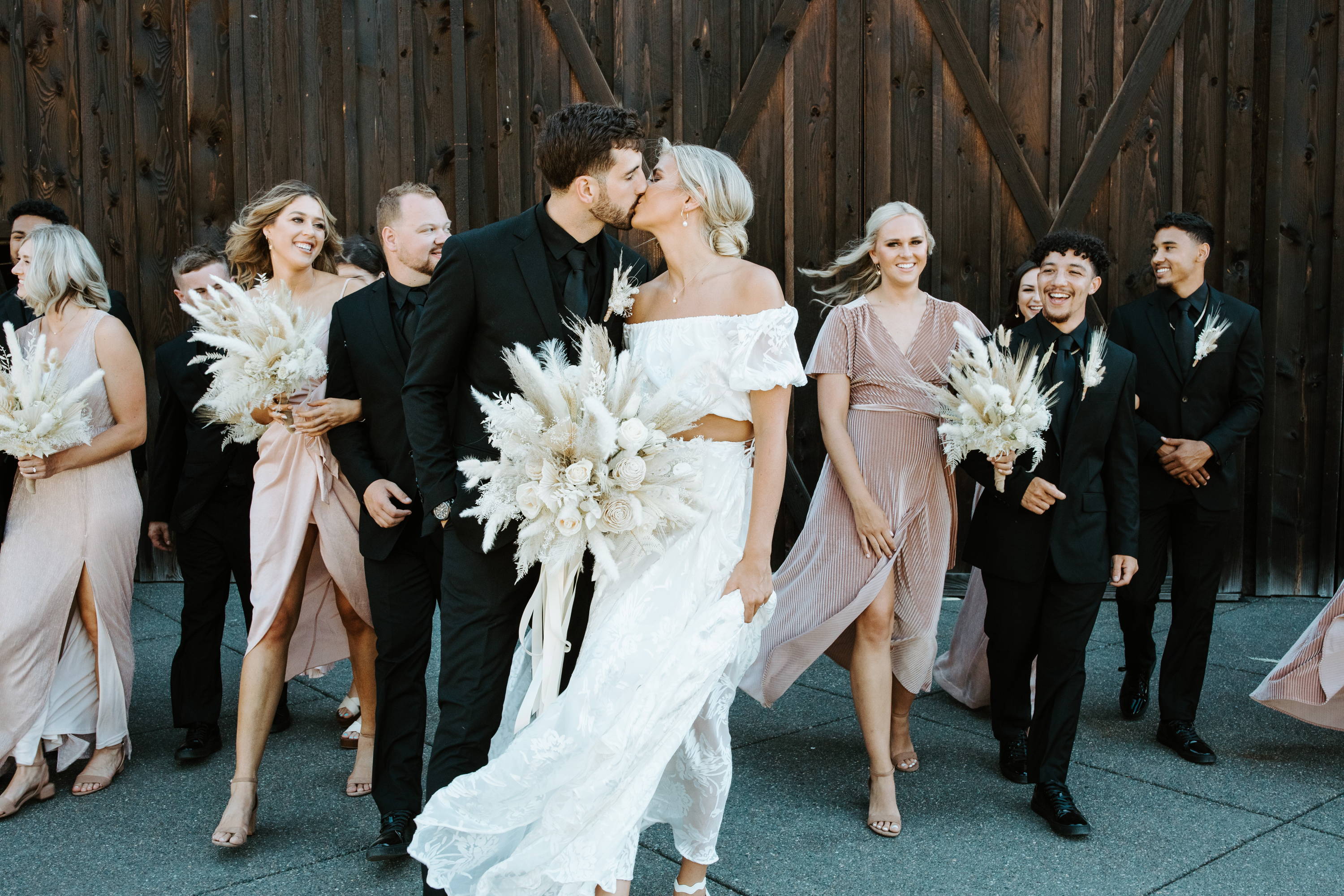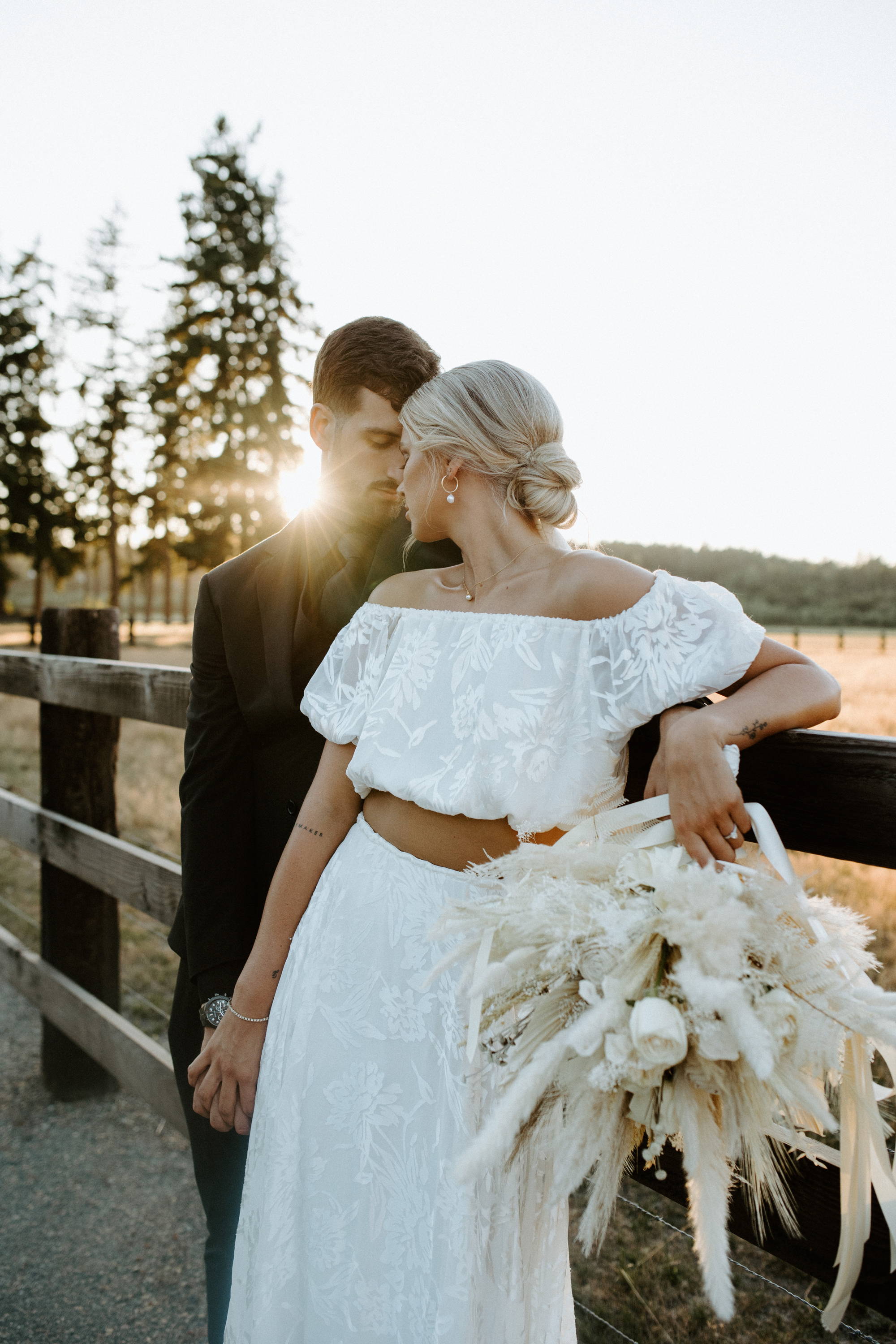 Tell us about your experience when you found your dress, did you buy your wedding dress online or in one of our showrooms?
I initially had an appointment set up in Venice Beach, CA in a showroom but after the pandemic hit, I had to go back to Seattle, WA with my family. I was very upset because I wasn't near a showroom and was thinking about booking a flight back to California to try on the Loyola set. Shortly after, I saw that they were opening a show room in Seattle and I was ecstatic! The showroom was breathtaking and the stylist that I was working with was so beautiful and kind, she told me that I was her first client and even shared emotions with my family when I tried on the Loyola set. I then purchased the dress that day and was able to communicate directly with employees about my sizing and shipment! It was seriously the easiest and most amazing experience.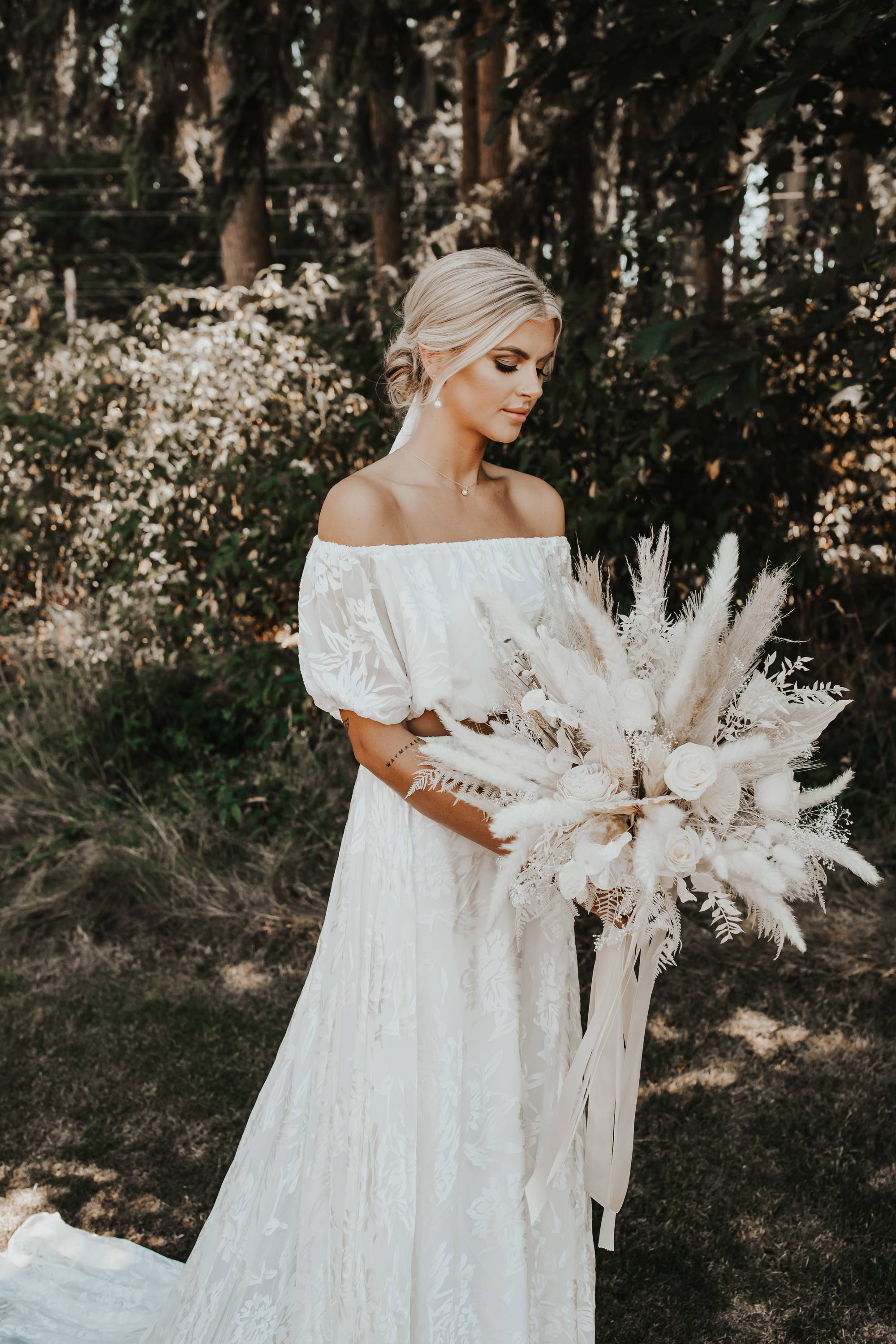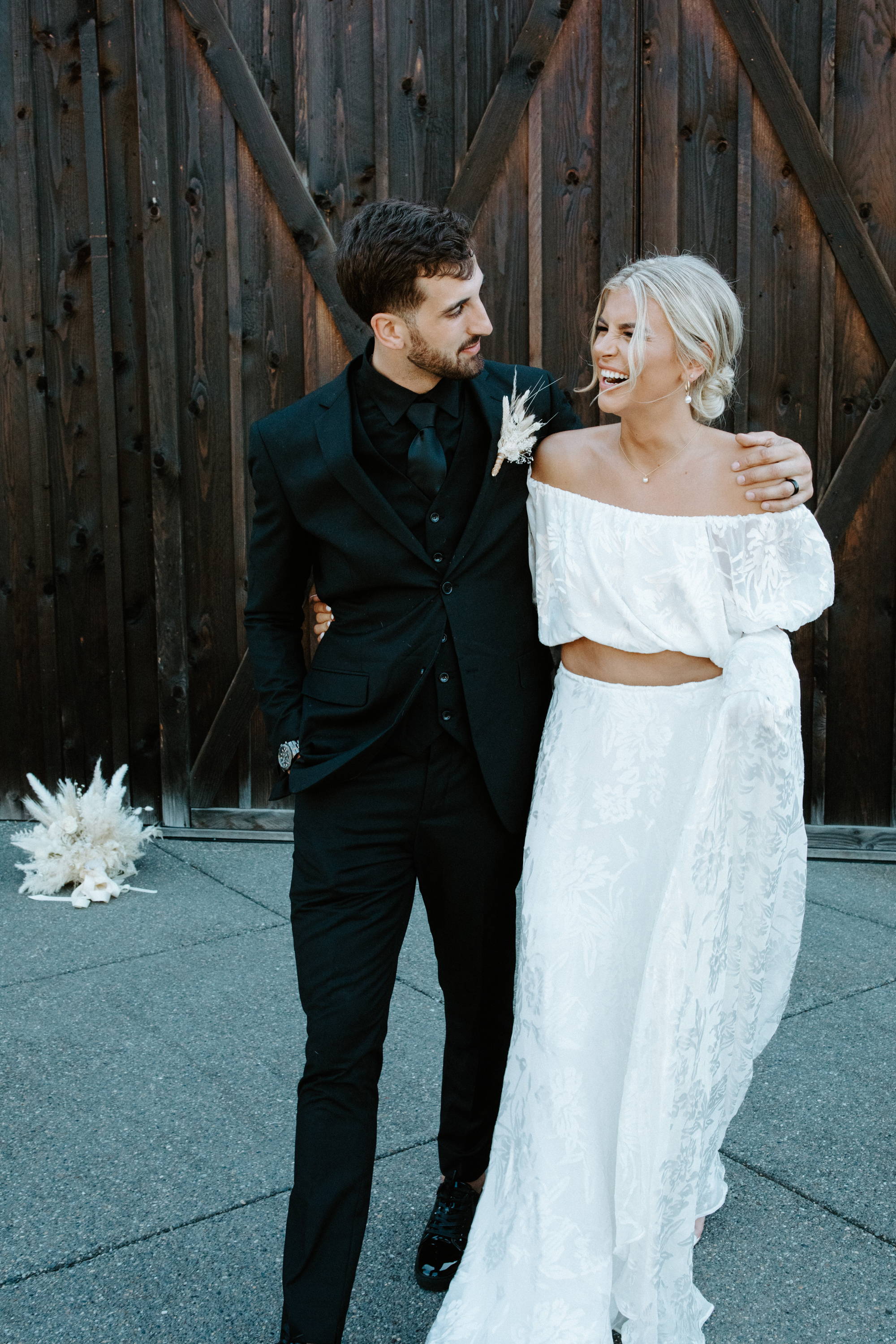 How did you feel in your dress on the day?
I have never felt more beautiful than I did the day of my wedding. My husband told me that he had never even imagined a dress so beautiful and I really cant even put into words how amazing it made me feel. My bridesmaids and family told me that they couldn't picture a more perfect dress for me and I felt the exact same way.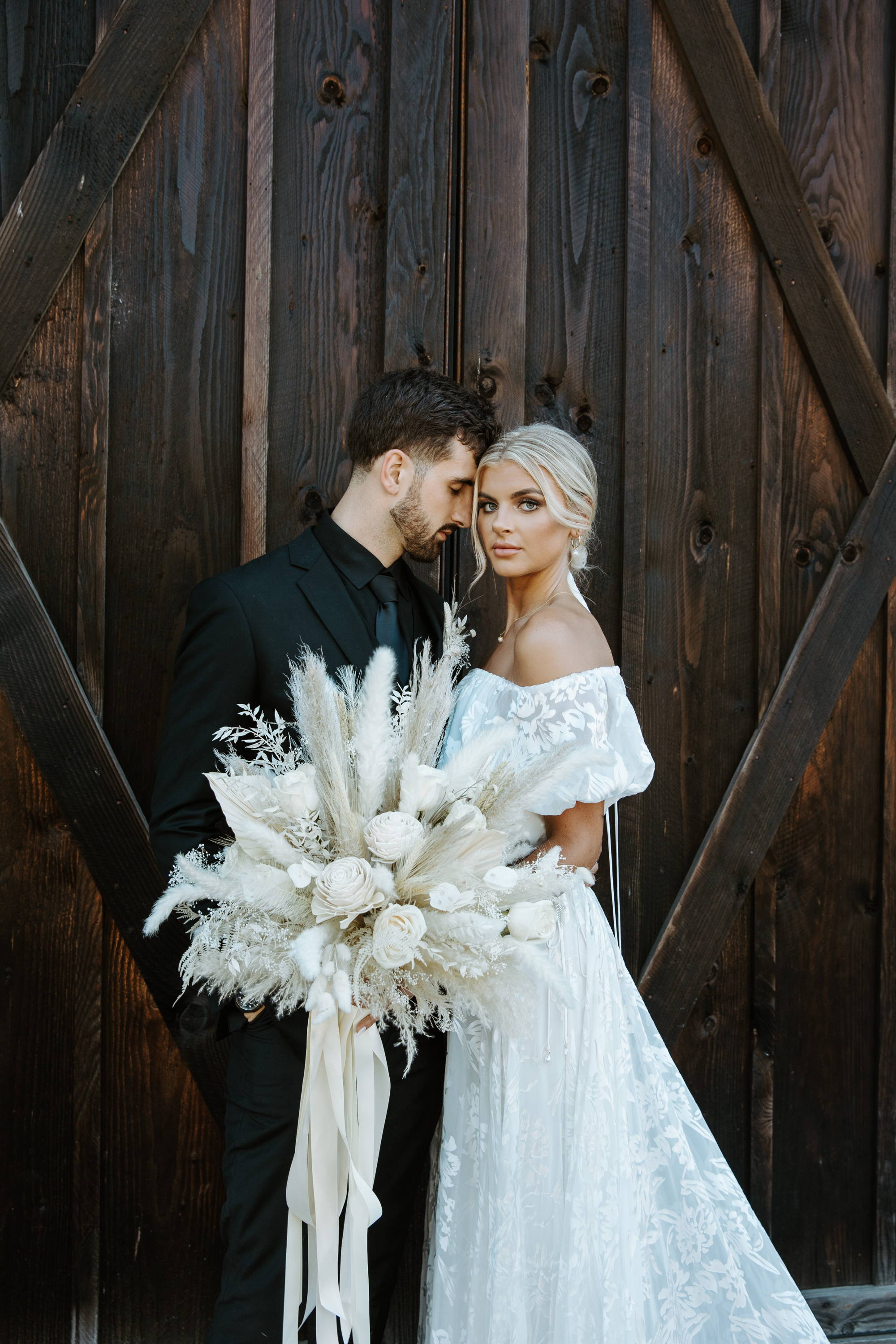 Where did you get married? Tell us about the location & the style of your wedding day.
I got married at the Kelley Farm in Bonney Lake, WA. The venue has a big beautiful barn with chandeliers and a view overlooking the mountains. My bridesmaids wore champagne and I wanted everything in our wedding to be either white or tan, so the flowers were strictly roses, pompous grass, and wheat. The men wore all black and everything about the wedding far exceeded my expectations, it was so amazing. The style was very boho and rustic and my florist went above and beyond to make it even more beautiful than I ever imagined!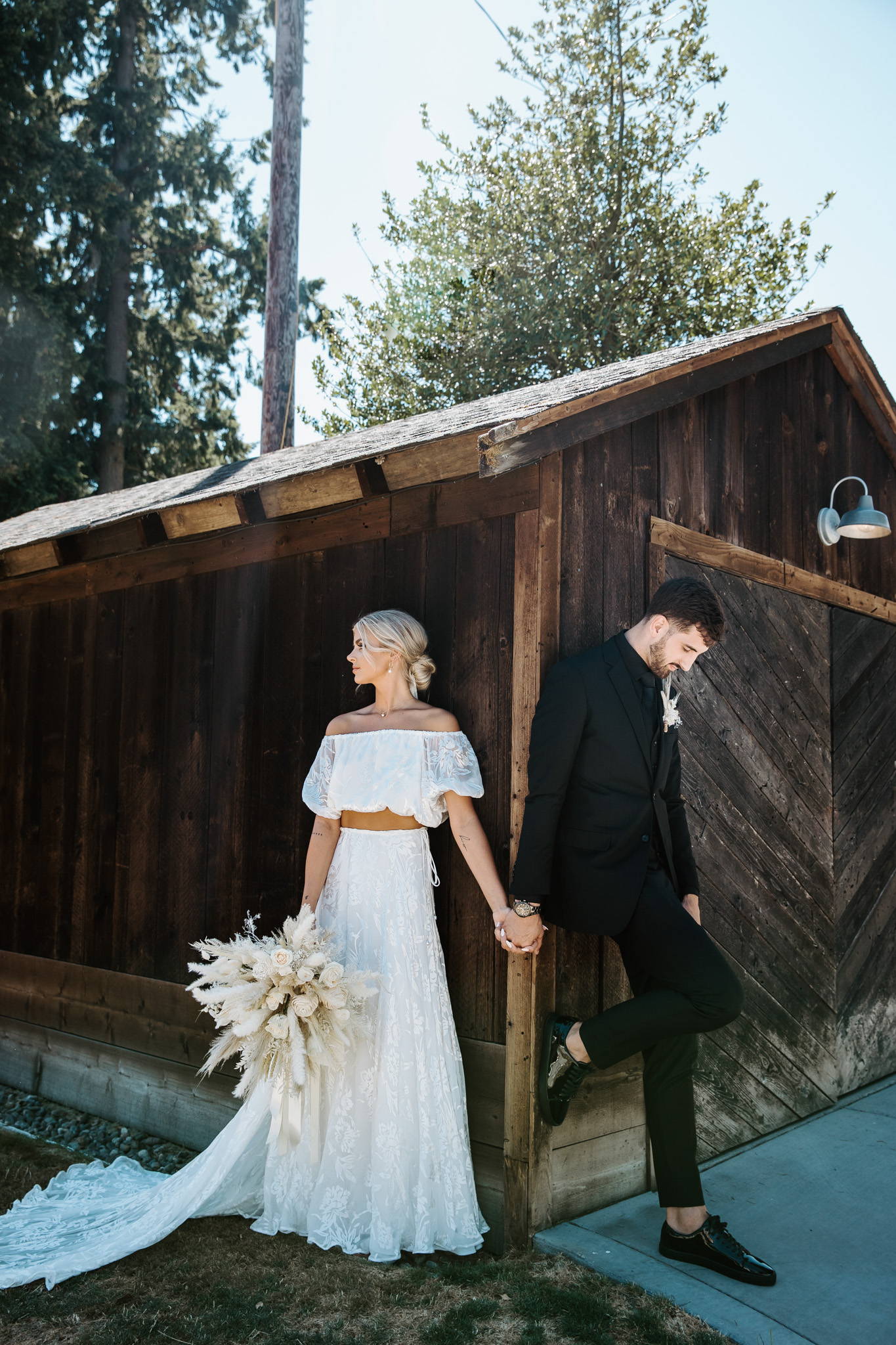 Tell us about your hair and makeup look and the accessories you chose…
I wore my hair in a bun and tied the hair scarf in it as well! I also used earrings from Grace Loves Lace and had my makeup done with plum undertones, the accessories from Grace Loves Lace were absolutely breathtaking!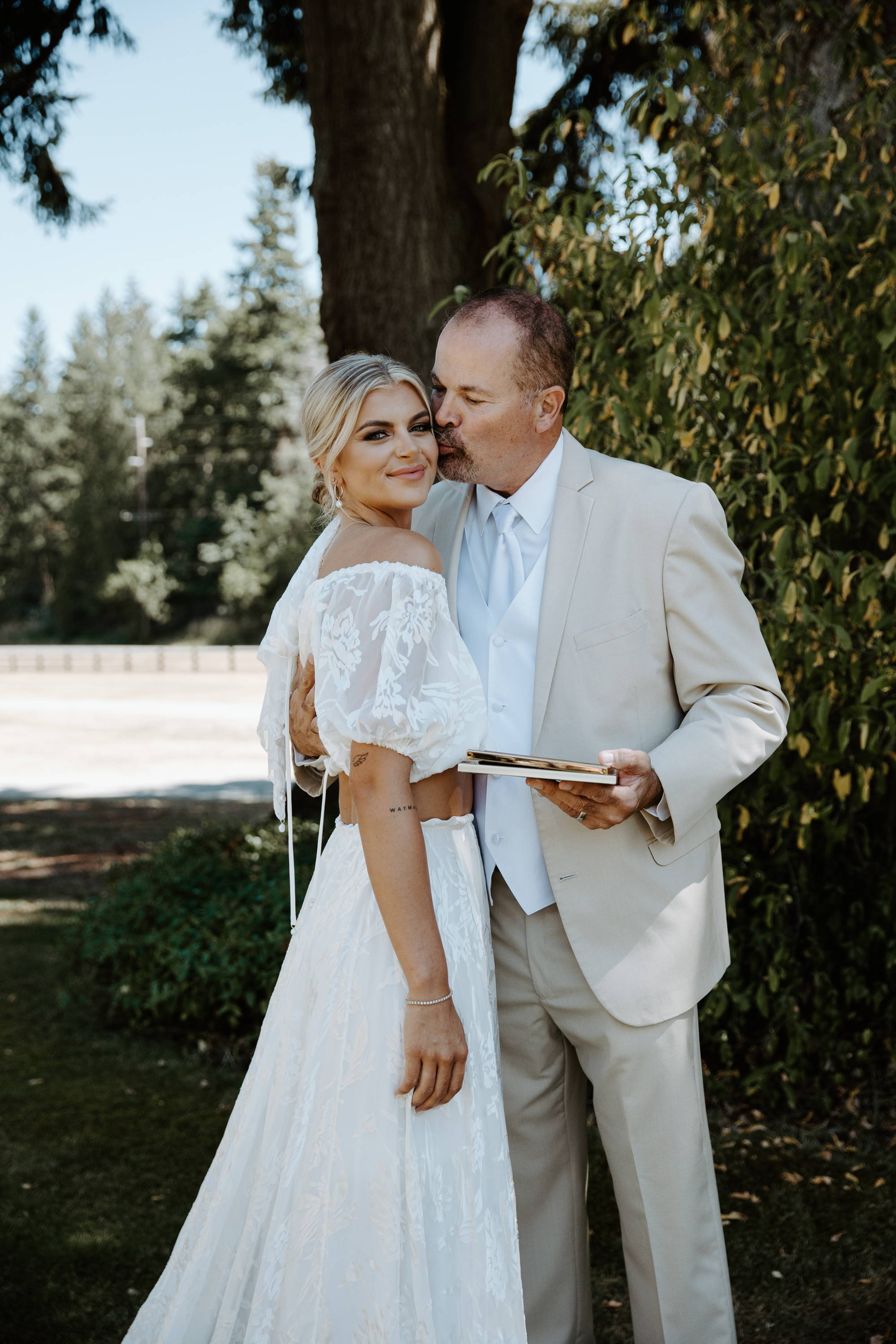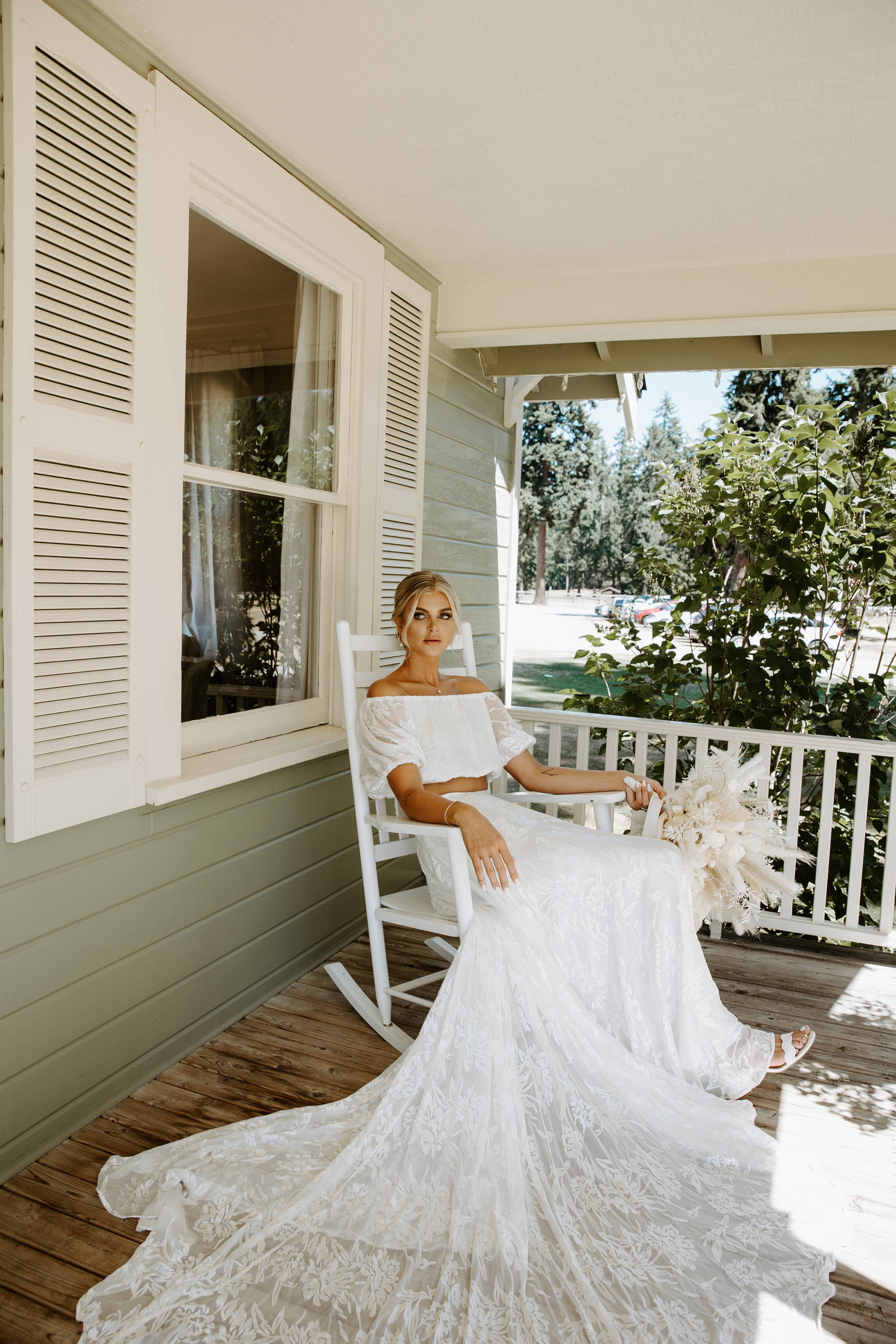 The funniest moment on the day was…
The funniest part of our wedding was when my brother won the Garter toss. He has won the garter toss at every wedding and he got married in October this past year. After the garter was thrown at our wedding, I saw someone dive and slide across the floor to grab it only to see that it was my already married brother! I guess he didn't realize that you can only participate if you are single so we spent the next few days laughing about his surprised face when he realized that he shouldn't have been involved!
Where will you be honeymooning?
We will be honeymooning in Cabo San Lucas in Mexico!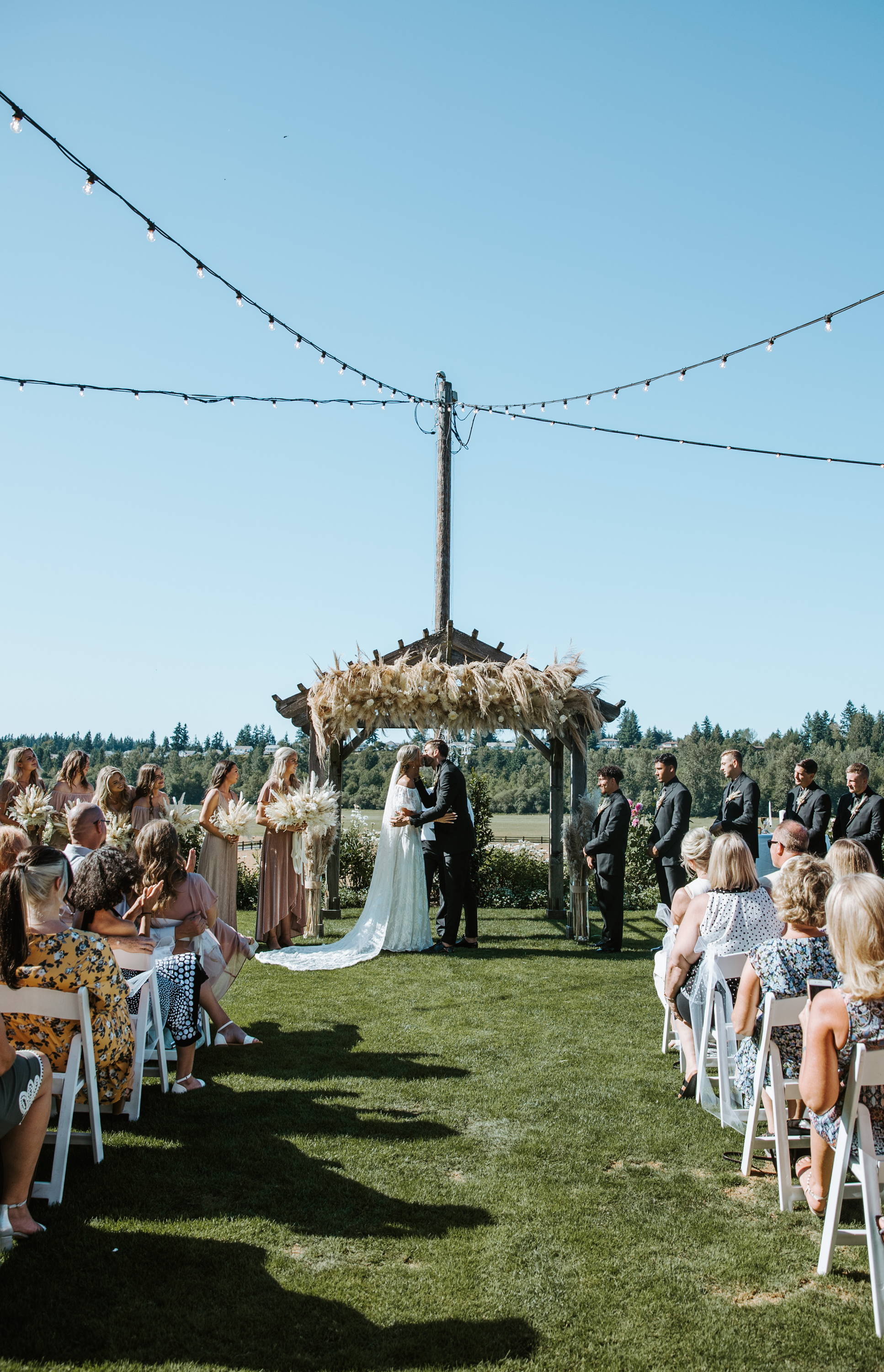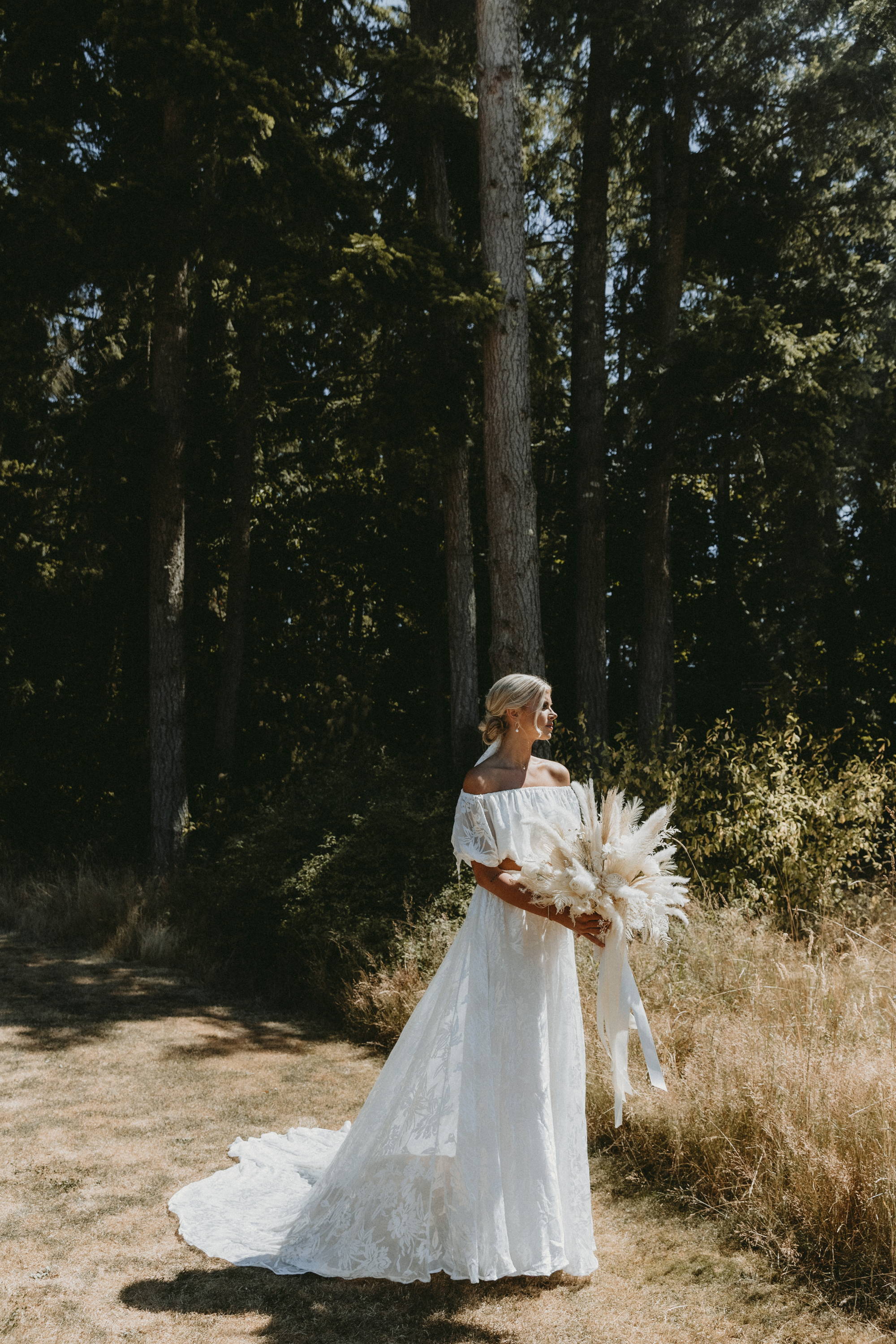 What made your day extra special?
My day was so special because it is the first time I have seen most of my friends and family in over two years due to the pandemic, I remember being so emotional that we had almost 200 people fly to Washington to celebrate with us and I cant even explain how loved me and my husband felt on our wedding day. My father also had an emergency appendix surgery three days before the wedding and was still able to fly in for our wedding last minute so I feel incredibly blessed that he was able to share our special day with us!
Any last advice or words of wisdom that you can share…
My advice would be to choose the dress that makes you feel the most confident, comfortable, and beautiful. It would also be to enjoy every moment of your special day and the important people that sacrifice their time to help you plan and show you love! Soak up every moment and the beauty of the biggest day of your life!



THE BRIDE WORE: Loyola set, Loyola veil, Loyola Pope Silk scarf, Gaia Earrings
THE GROOM WORE:D&K Menswear, Nashville, TN

Photographer:@wildfeltphotography
VIDEOGRAPHER:@seasonsvideography
VENUE: The Kelley Farm in Bonney Lake, Washington
Florist:Patty Schmitt, Flowers by Patty
H&MU:@minnie.styles
Catering:Snuffins Catering