Raul & Alexa in the Palm Gown
Alexa & Raul tied the knot in Los Cabos, Mexico. A picturesque location of sand, lot's of greenery, and waves bringing serenity and convenience together – what more could you want? For a final special touch, Alexa & Raul's theme was for everyone to dress in white or cream as a symbol of unity - this is the dreamy wedding we have been longing for.​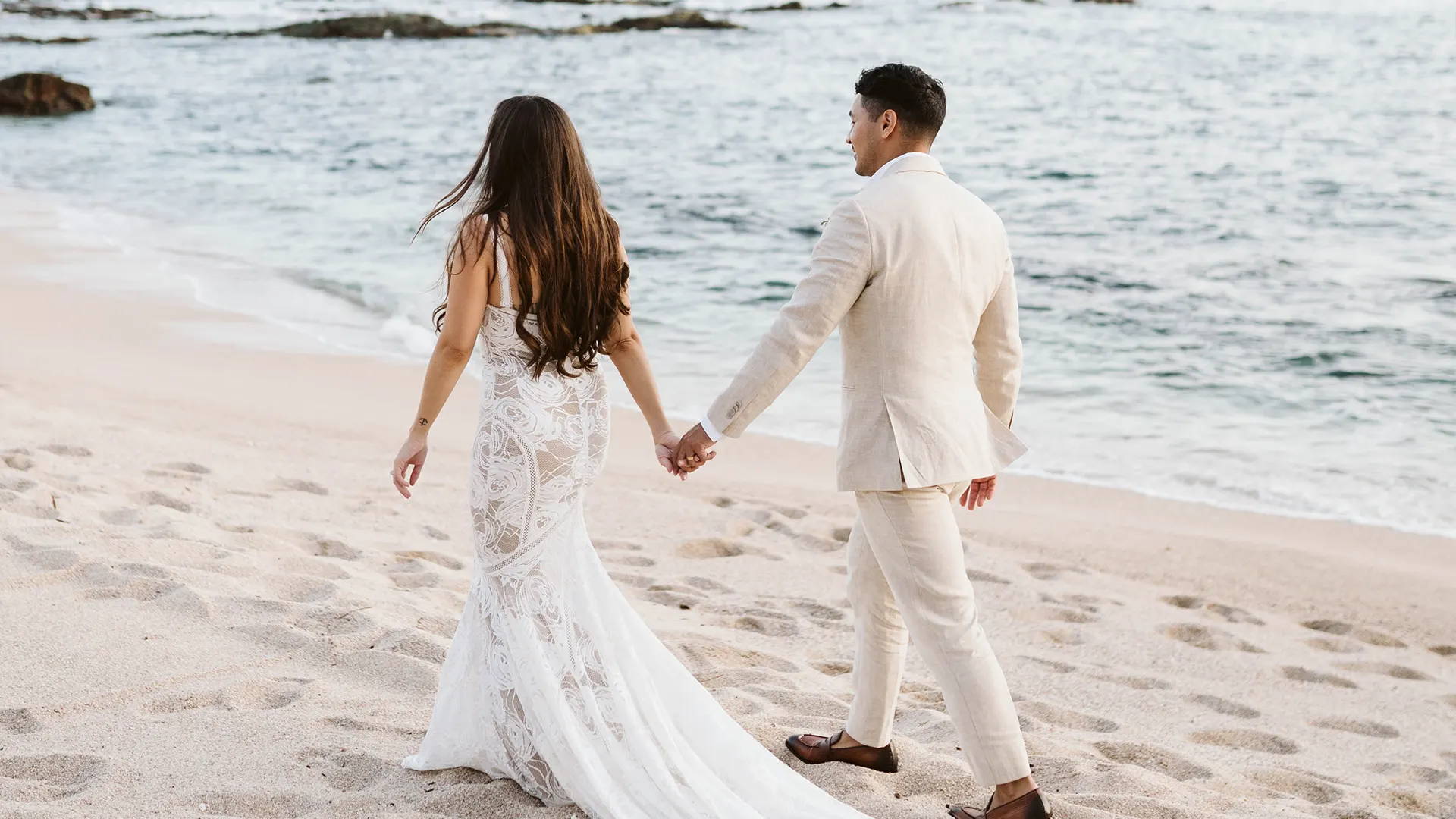 What is a GRACE Woman to you?
A GRACE woman is effortless and unique. Someone who embraces the juxtaposition of classic + modern and exudes character.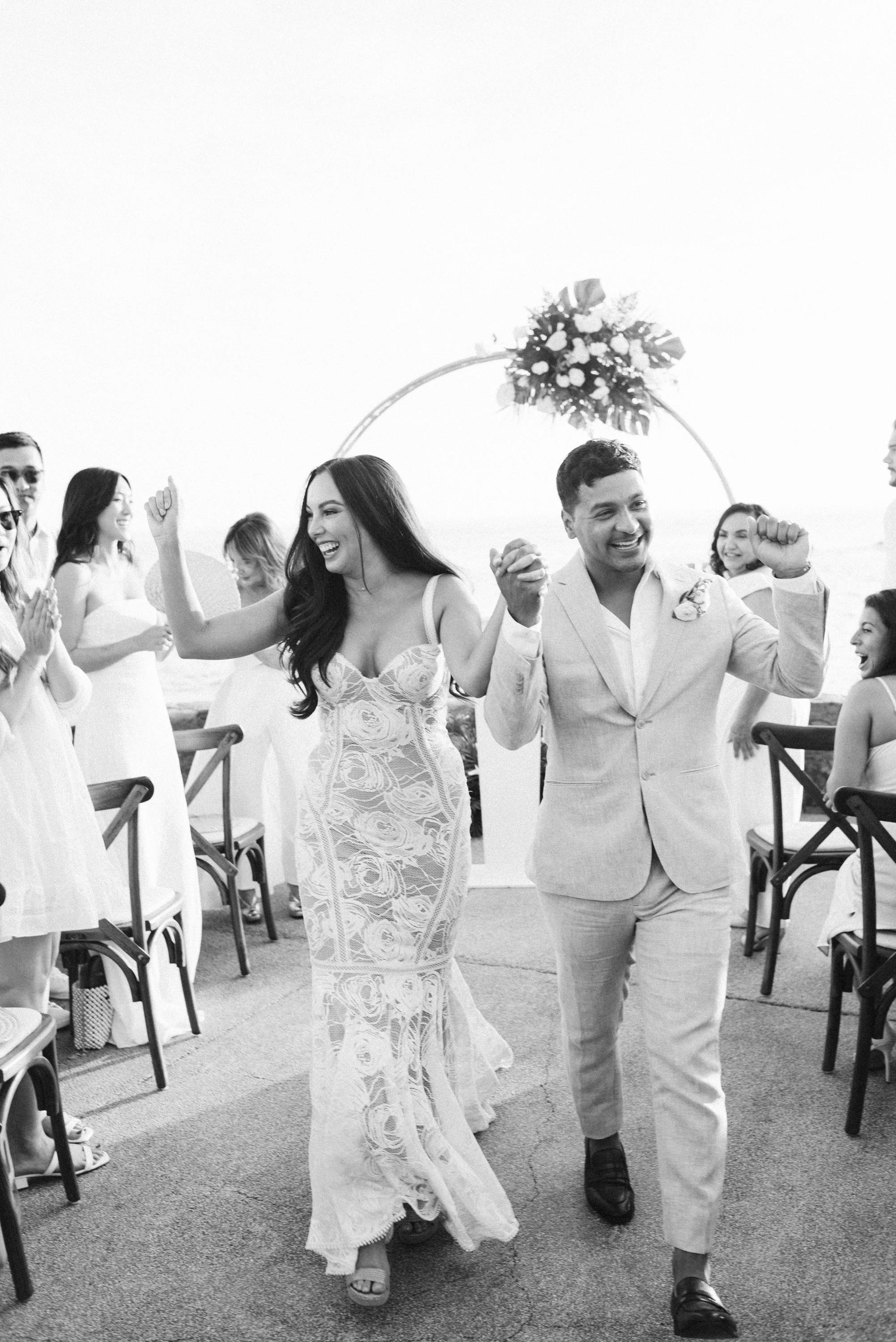 Which GRACE dress did you choose and how did you know it was 'The One'?
As a Latina, I was looking for a dress that reminded me of the women I grew up with: my mom, mi tia, and abuelita. All effortlessly elegant, different, comfortable with a hint of sexy. The Palm dress with the nude lining immediately made me feel all three. A twist on the traditional white dress with an alluring curvy cut that hugged my body perfectly it just felt made for me.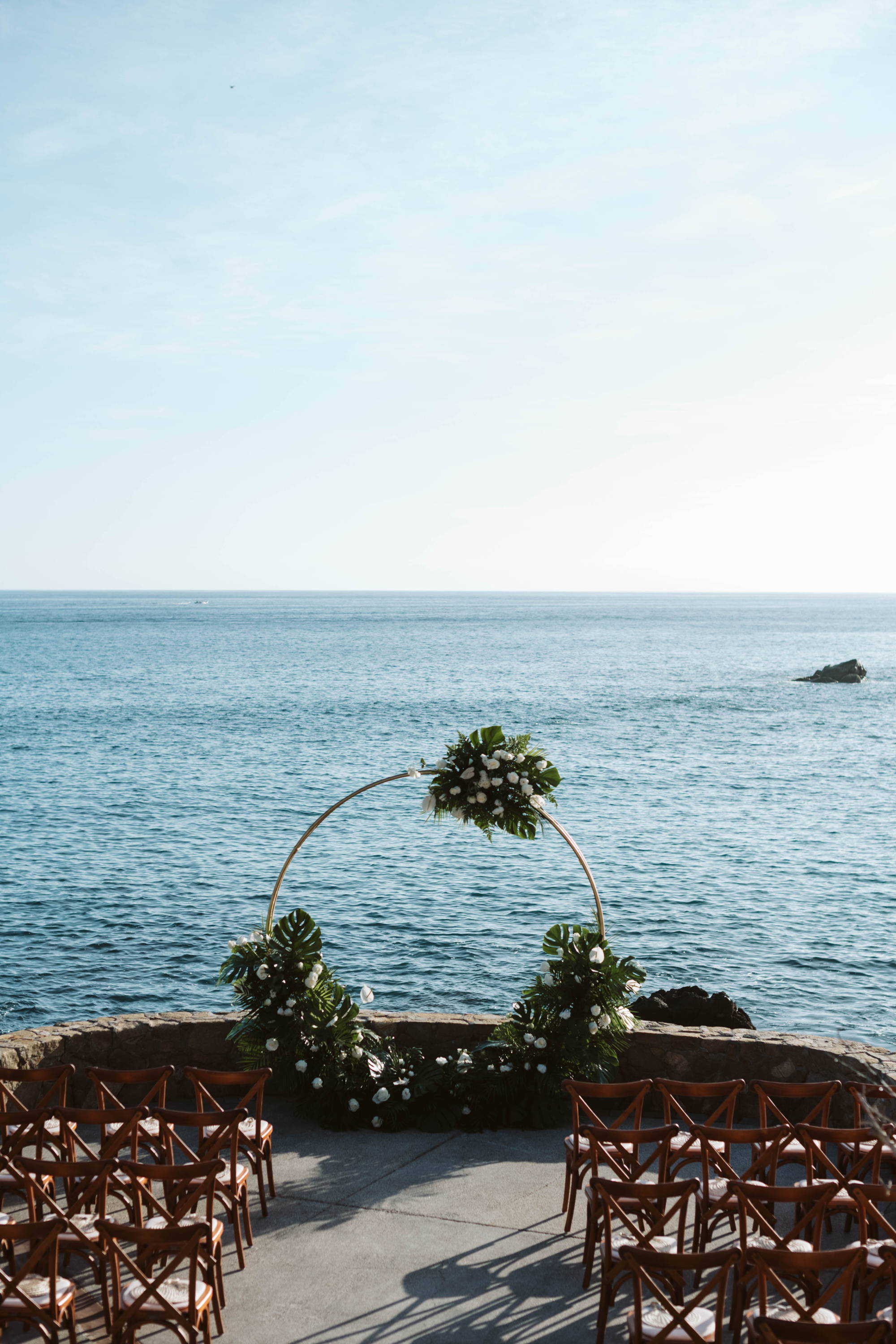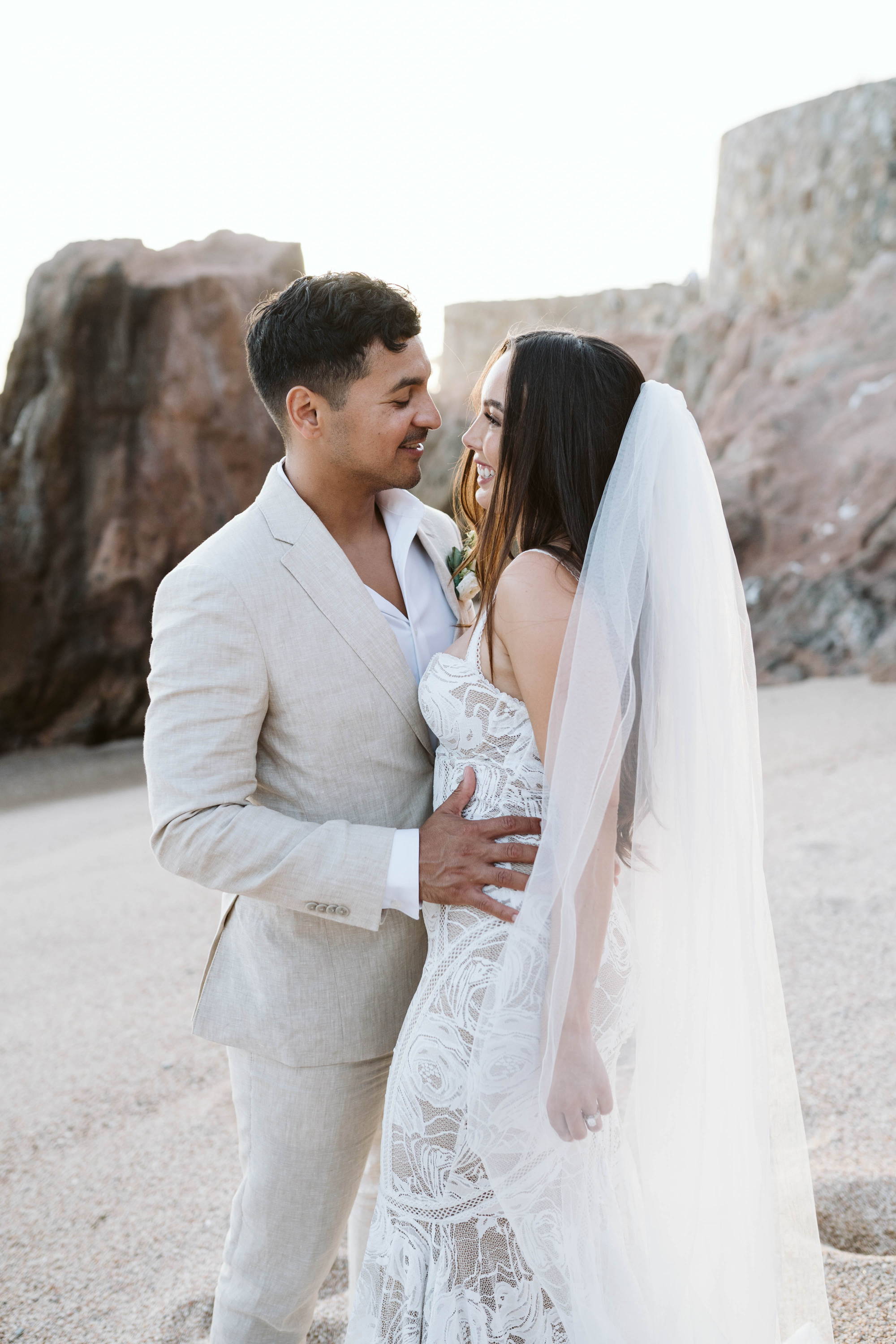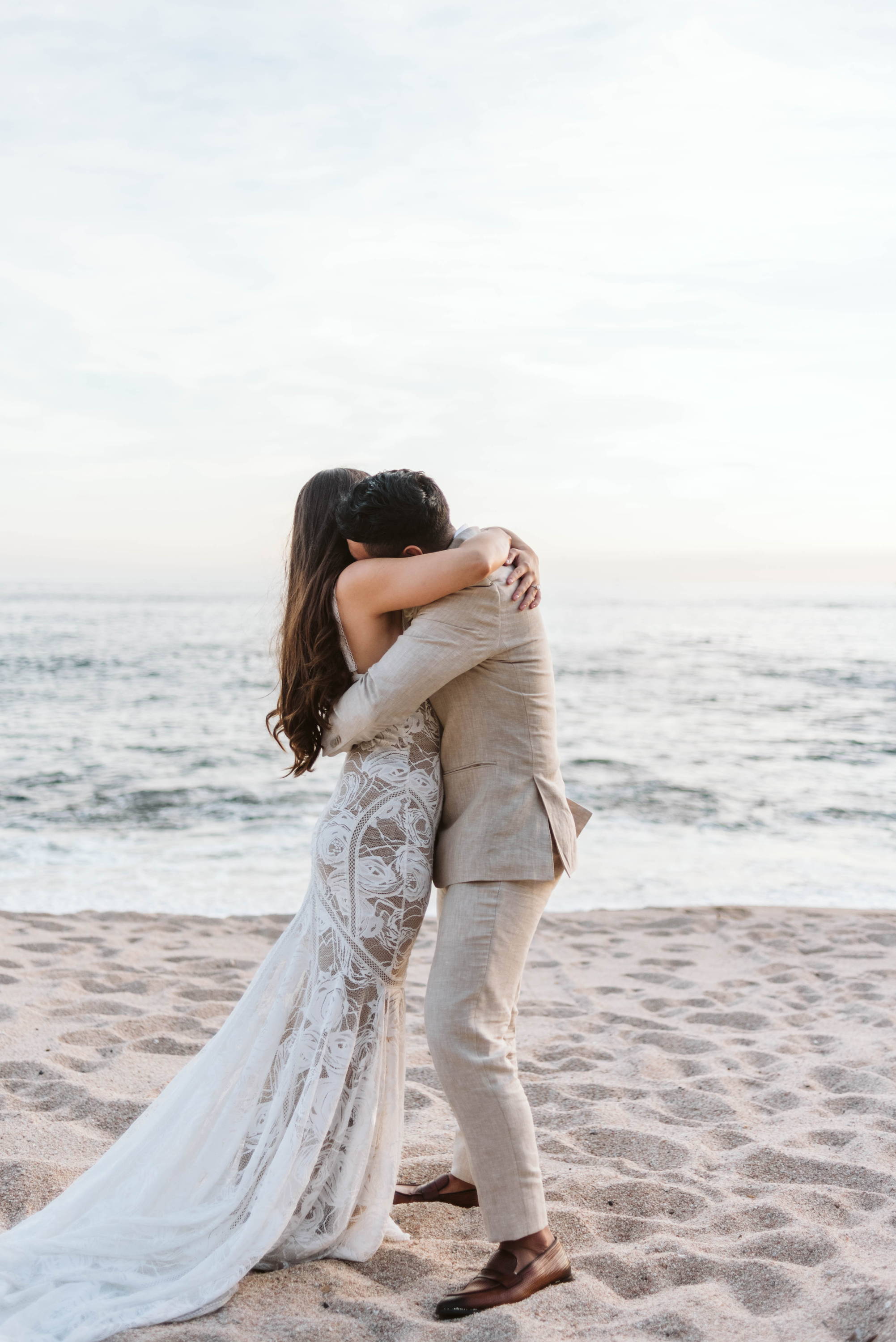 Tell us about your experience when you found your dress, did you buy your wedding dress online or in one of our showrooms?
I bought my wedding dress during the pandemic, when it was globally we were all dealing with the rising and falling CVOID spikes and the overall stress that comes with uncertainty. In my way of staying sane I emersed myself in work and planning the wedding and luckily Grace Loves Lace announced they would open the Los Angeles location at limited capacity with masks. I was overjoyed, called my sister to set an appointment, and immediately went to my Instagram to save all the different dresses I would try on.
Once I walked through the doors of GLL, I was greeted by Jazmyn and we enjoyed the next hour or so trying on DOVE, CLO, ROSA, and finally PALM. All the dresses were gorgeous, but when I saw the PALM dress hug my curves and accentuate my assets so beautifully I thought to myself this is it. Traditionally structured, in the sensual nude, with a Spanish feel. I looked at my sister as she audibly wowed and there it is. That moment of wow sealed the deal. Grace Loves Lace was the first and only place I went to to try on dresses. When you know. You'll know.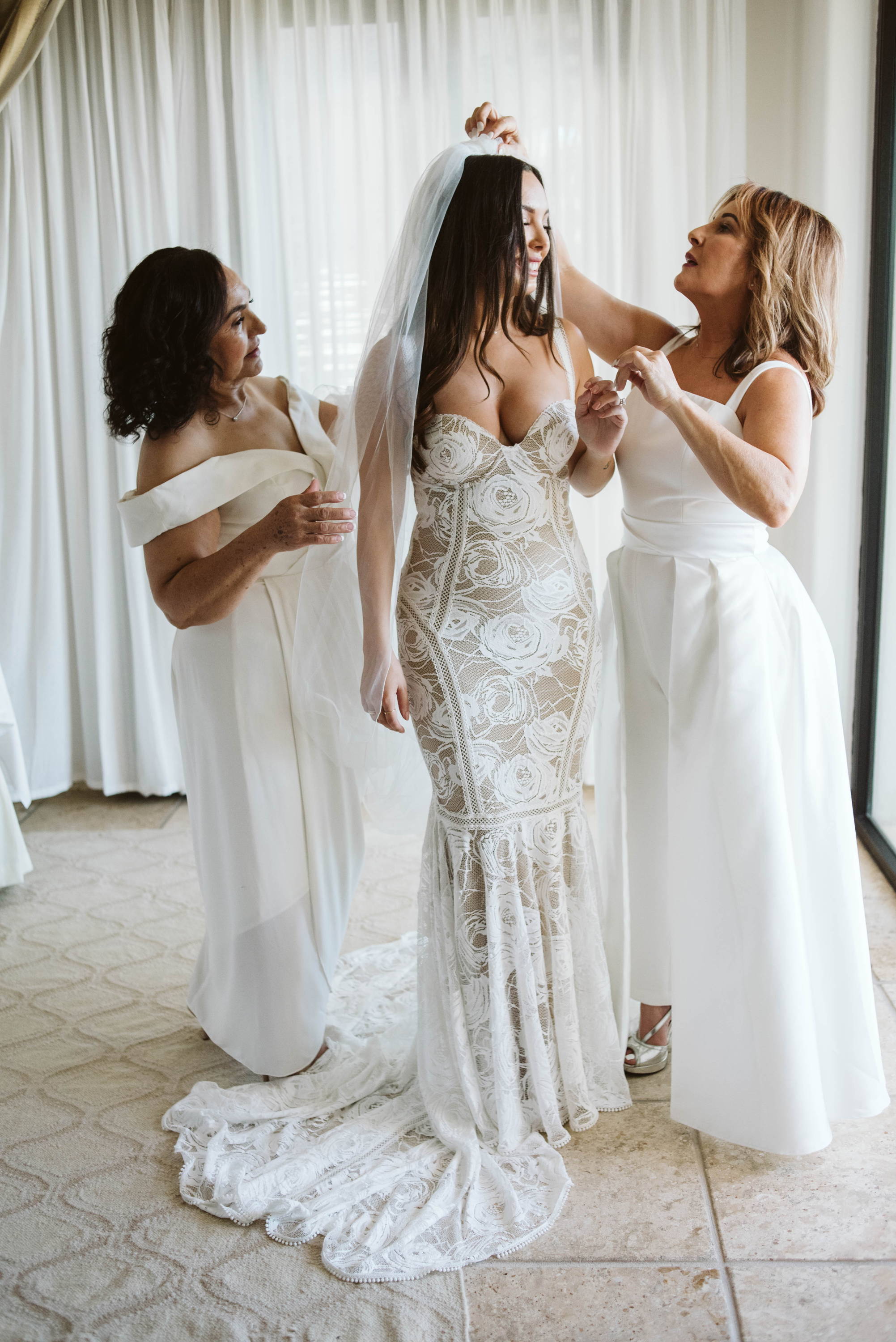 How did you feel in your dress on the day?
There is nothing that makes you feel more ready to say 'Yes' than the dress. That breathtaking reaction on your partner's face when you have your first look, or as you walk down the aisle is something you'll remember forever. Raul couldn't keep his eyes off me and the dress was so comfortable, I forgot about my second outfit change.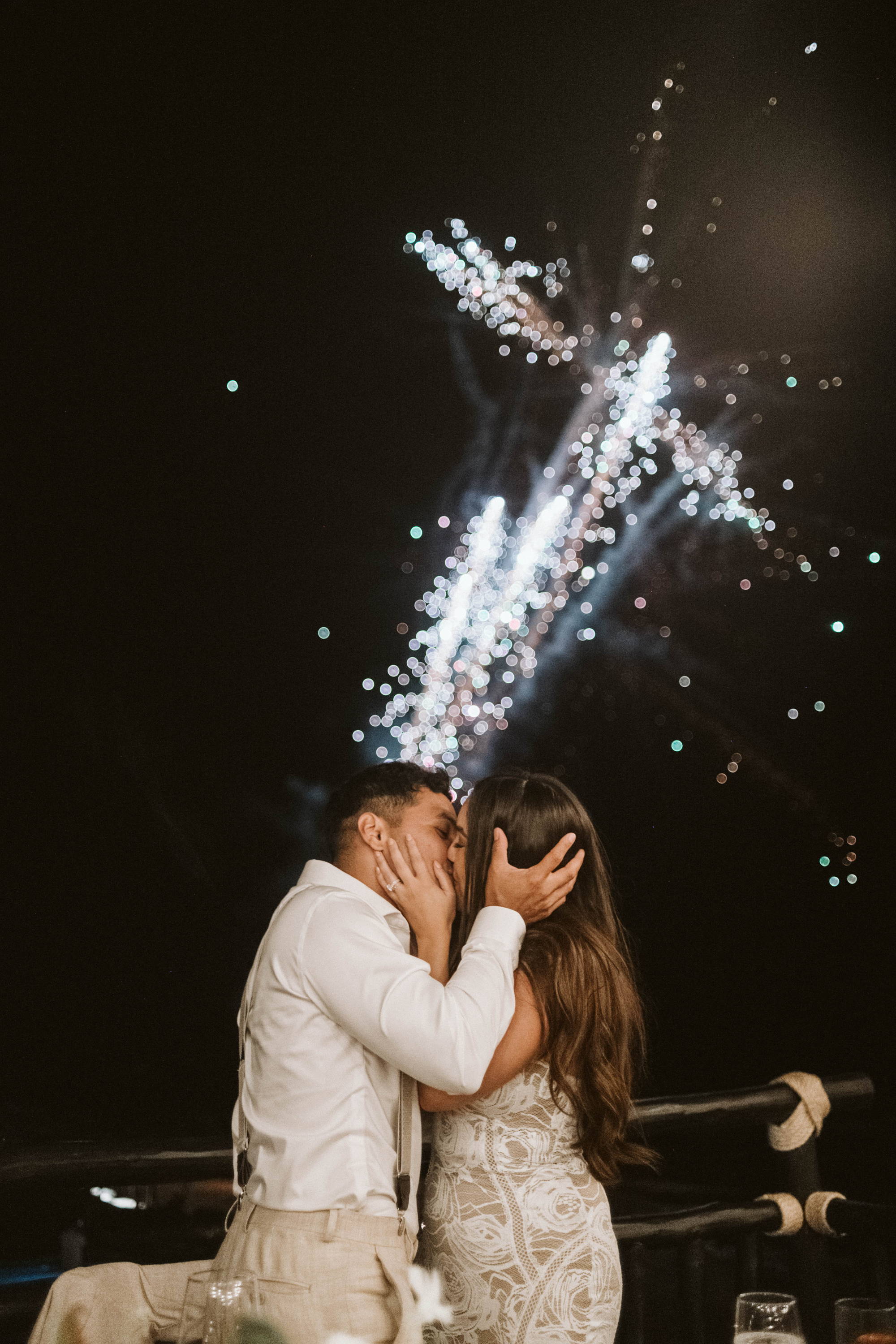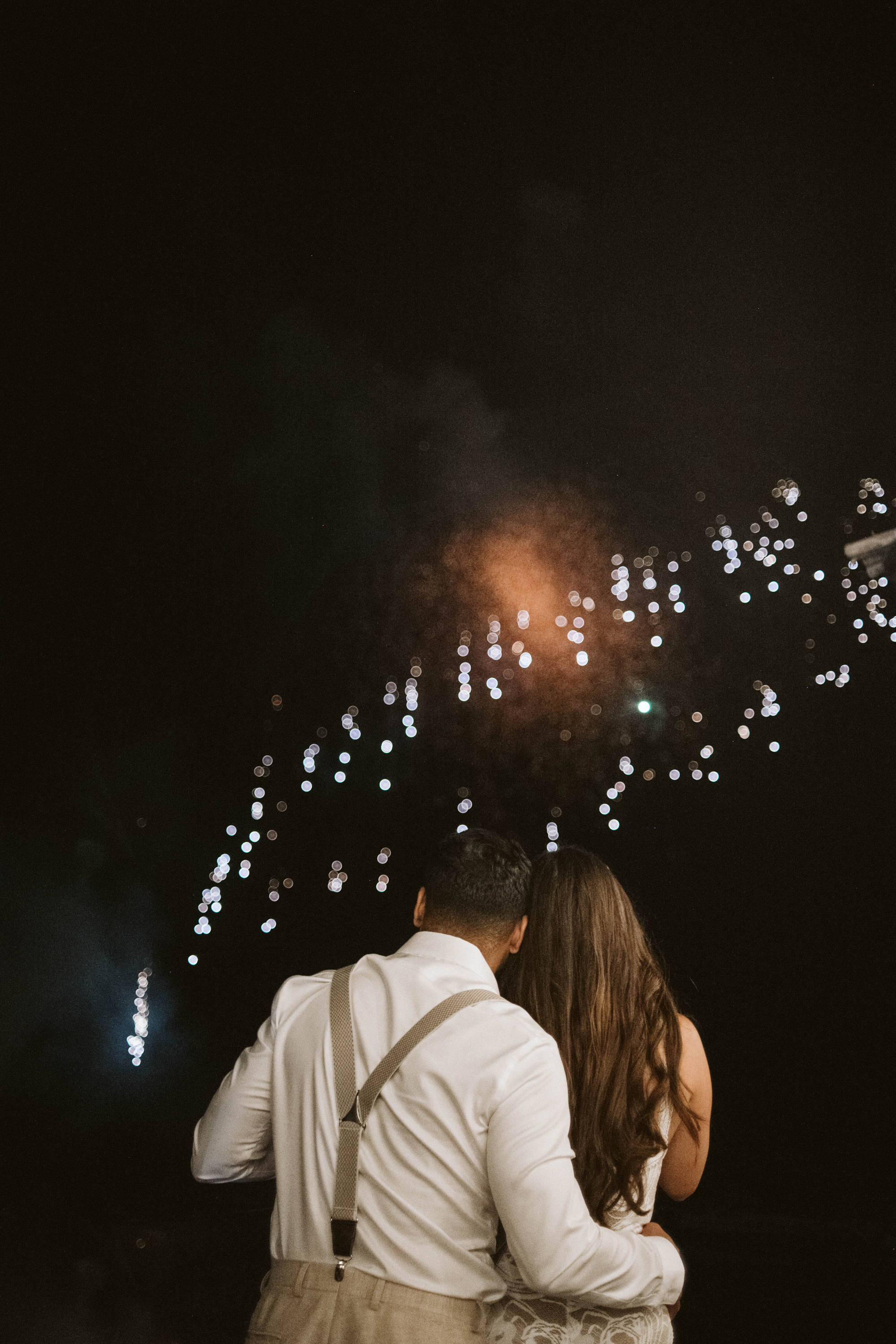 Where did you get married?
Tell us about the location & the style of your wedding day.
When searching for a venue, Raul and I wanted to create an experience since we were asking our fourty closest friends and family to connect and explore all together at a new place. We wanted the venue to feel private and tucked away while being able to venture off at the resort or the local city. Esperanza Resort Cabo San Lucas did exactly that in a picturesque location of sand, greenery, and waves bringing serenity and convenience together. We asked everyone to dress in white or cream as a symbol of unity and who doesn't love a themed party.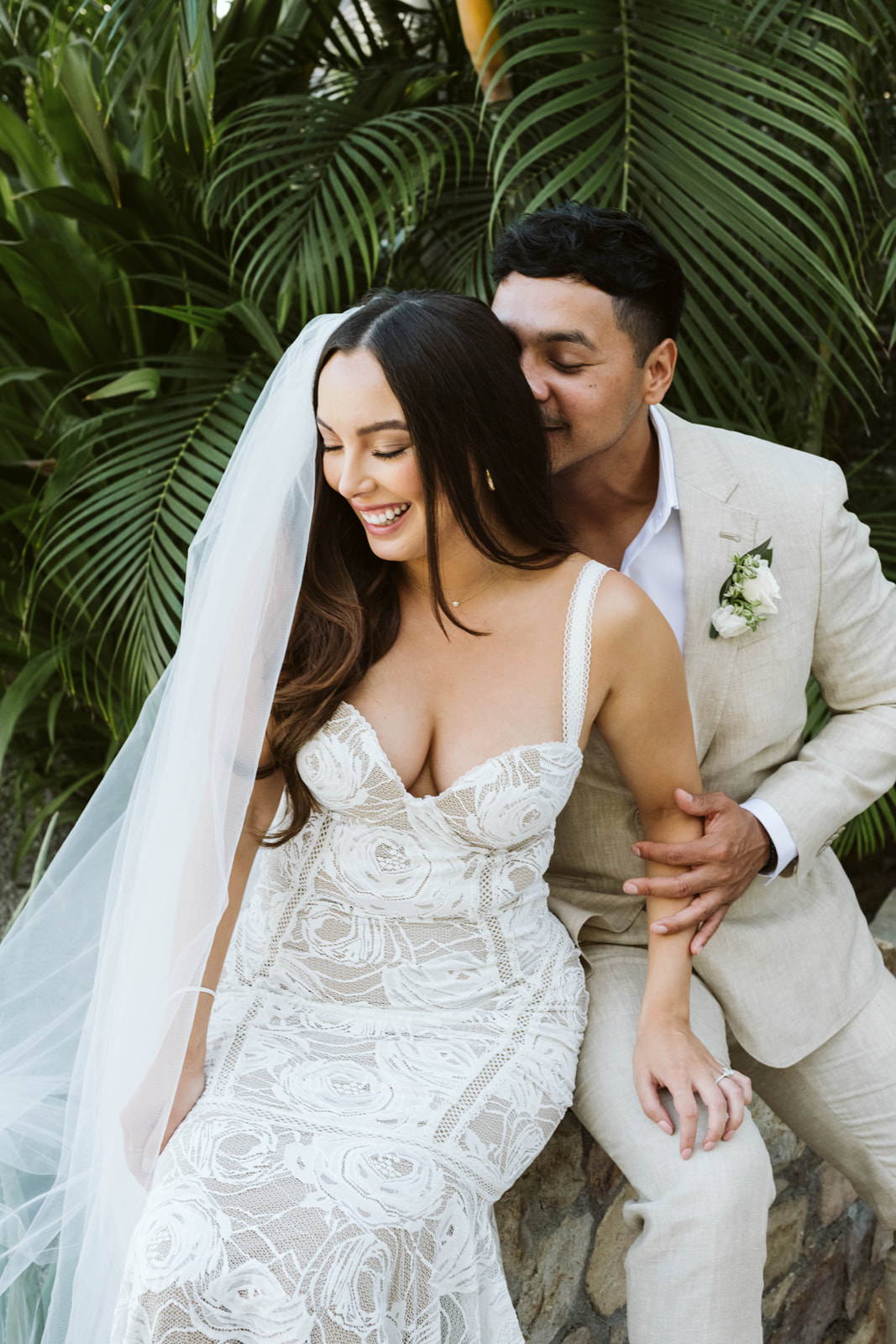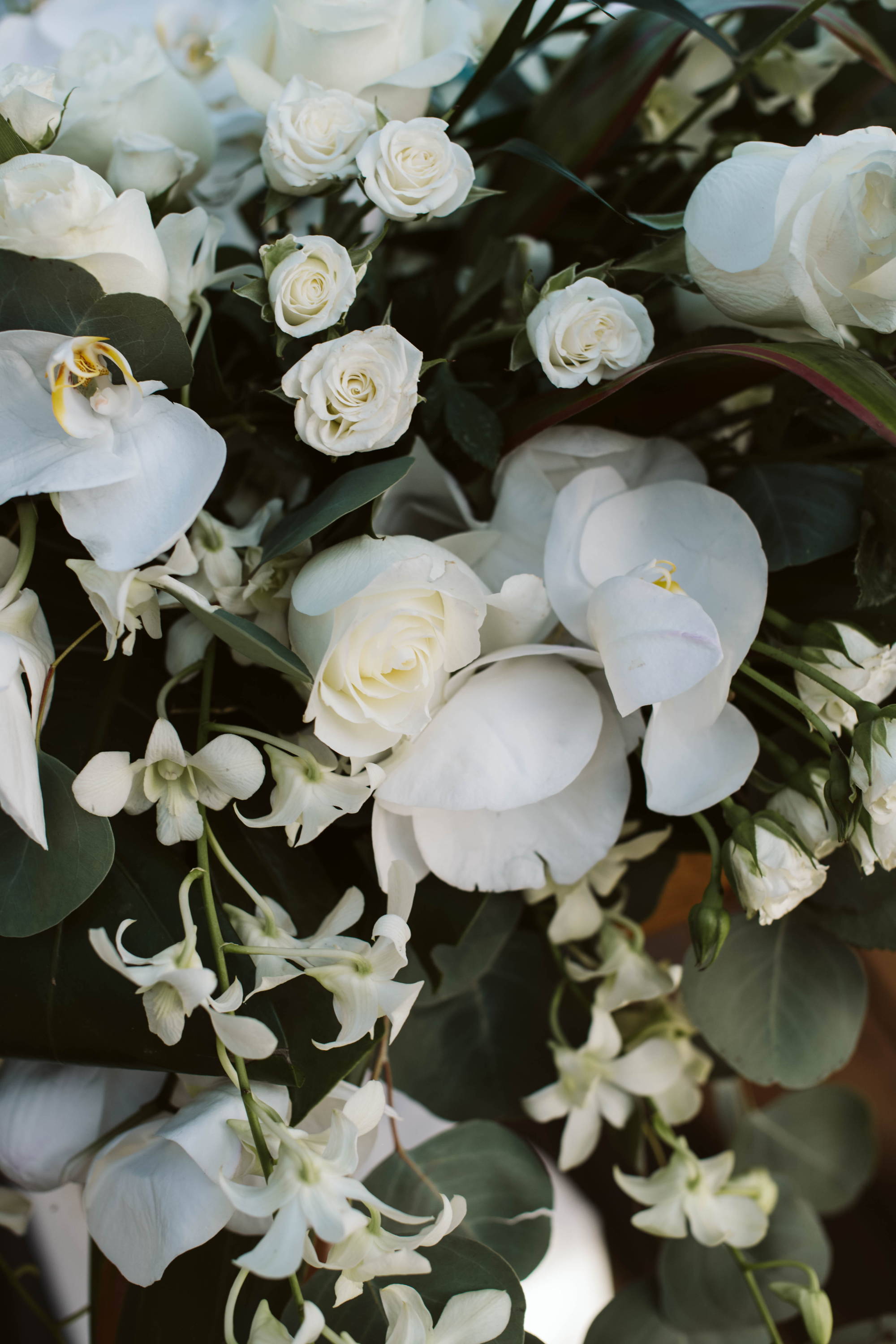 Tell us about your hair and makeup look
and the accessories you chose…
I wanted to make sure I looked effortless (even though we all know it takes A LOT of effort). For my makeup vision I wanted a look that felt like natural skin with neutral contoured tones, deep matte lip tint, and hair down with a soft loose curl. For jewelry, I opted for a delicate single diamond gold necklace paired with mid-sized gold hoops to compliment the olive in my skin tone.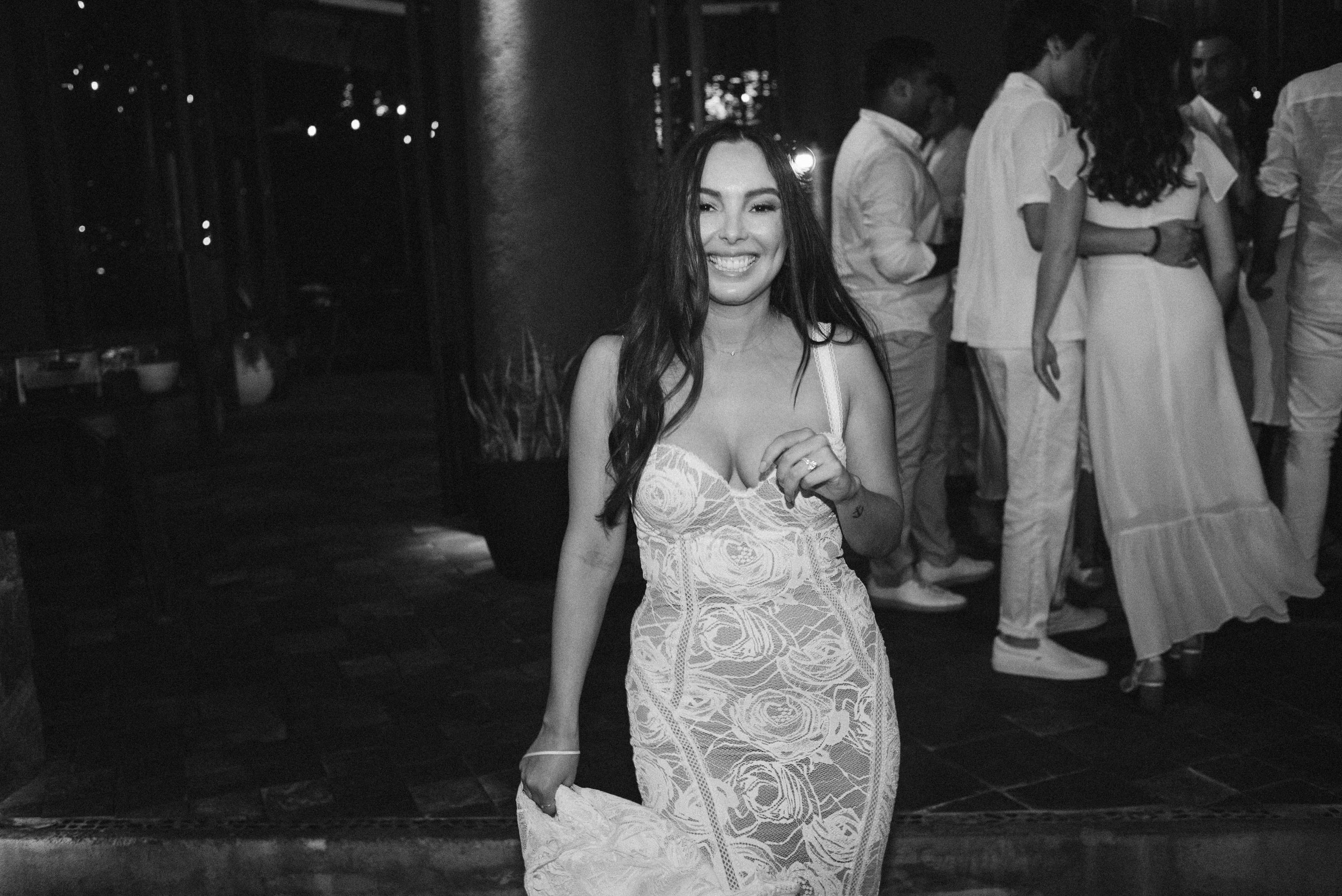 What made your day extra special?
Raul and I were raised by badass single moms. It's a part of our connected background and it was always important for us to highlight them throughout the wedding. We had each of our moms walk us down the aisle as the first show of gratitude, both moms exchanged hugs during the ceremony as we prepared to be wed. We also had our cocktails named after them: Sweet Maria: a mango tequila with tajin and Hurricane Danixa: a hibiscus tequila with lime. And our most poetic gesture: instead of daughter-father dance we opted to share the mother-dance. The bride with her mom and the groom with his mom as we danced to One Call Away by Charlie Puth. Mid-song we hugged our moms and switched partners as a symbol of our families coming together and publicly showing our respect and love for the women that raised us.
The funniest moment on the day was…
During the wedding, Raul and I planned a game called "The Shoe-Game" the premise is to share what the couple knows about each other while the guests also interact and have a moment of comedic levity. We enlisted two of our good friends to host the game and laughed for 30 mins straight as we answered questions like, "who is the real reason you guys are always late?"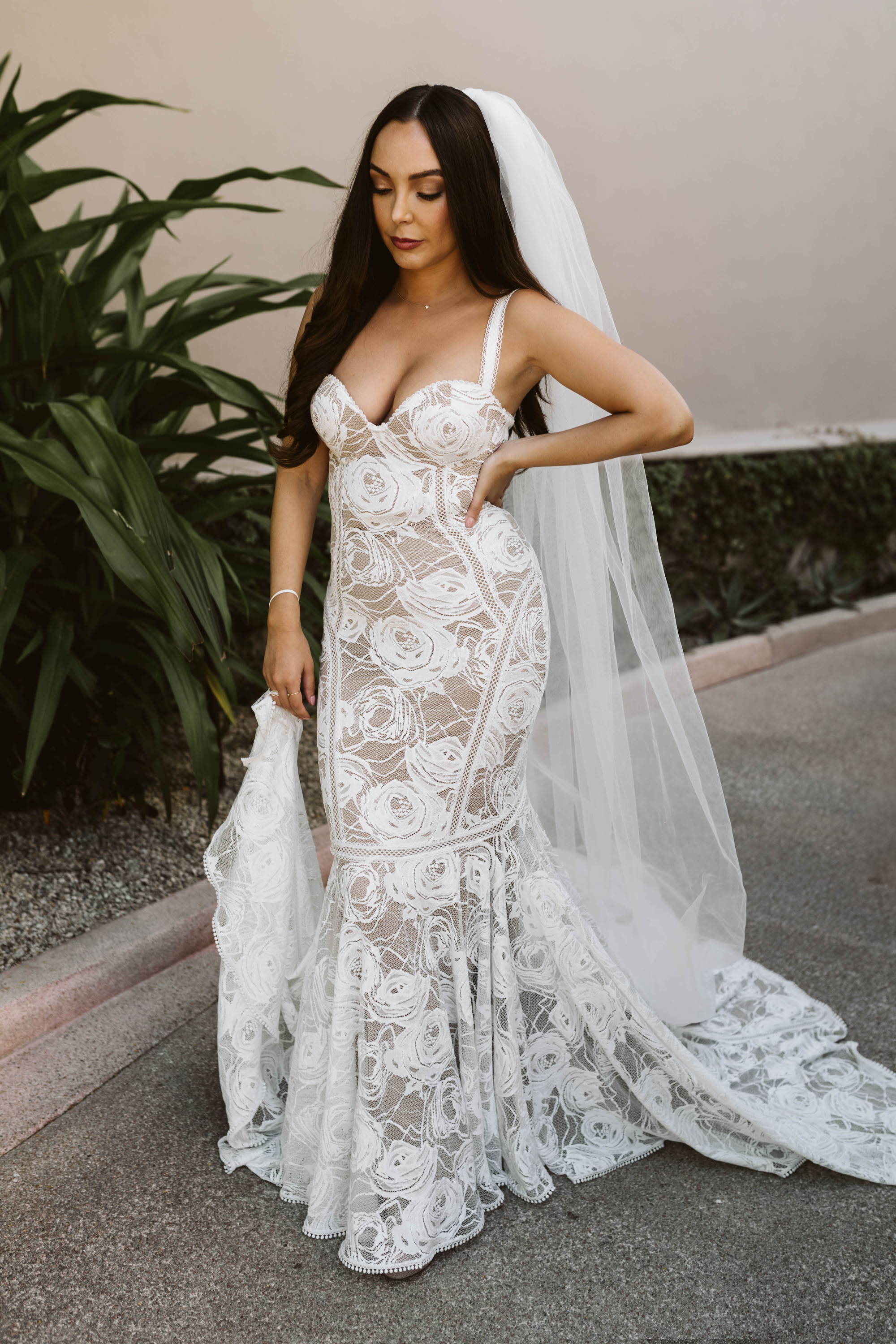 Where will you be honeymooning?
We went to Puerto Escondido in Oxaca. Stayed at this boutique hotel called Casona Sforza and enjoyed the epic views of the Emerald Coast and all the adventures that Puerto Escondido had to offer like illuminating bays, sea turtle experiences, horseback riding on the beach, whale watching and dolphin excursions, and much more. The vibes in Puerto Escondido are: great organic food, beach + wildlife, secluded seaside town.
Any last advice or words of wisdom that you can share…
During the reception, make in twenty minutes in your wedding schedule to check in with your partner. It goes a long way, trust me after hours of photos, greetings, and adrenaline find time to connect with your forever person to just say "how's it going?"



GROOM'S OUTFIT:MEN'S BRIDAL
WEDDING PLANNER: GRISSEL ZAVALA (ESPERANZA)