Mick & Steph in Verdelle 2.0 Gown

Mick & Steph's ceremony overlooked the countryside of Byron Bay. Hay bales and wooden barrels decorated the garden seating area to make the day even more homely and special for guests - we are obsessed!
What is a Grace Woman to you?
Bold, fearless, beautiful.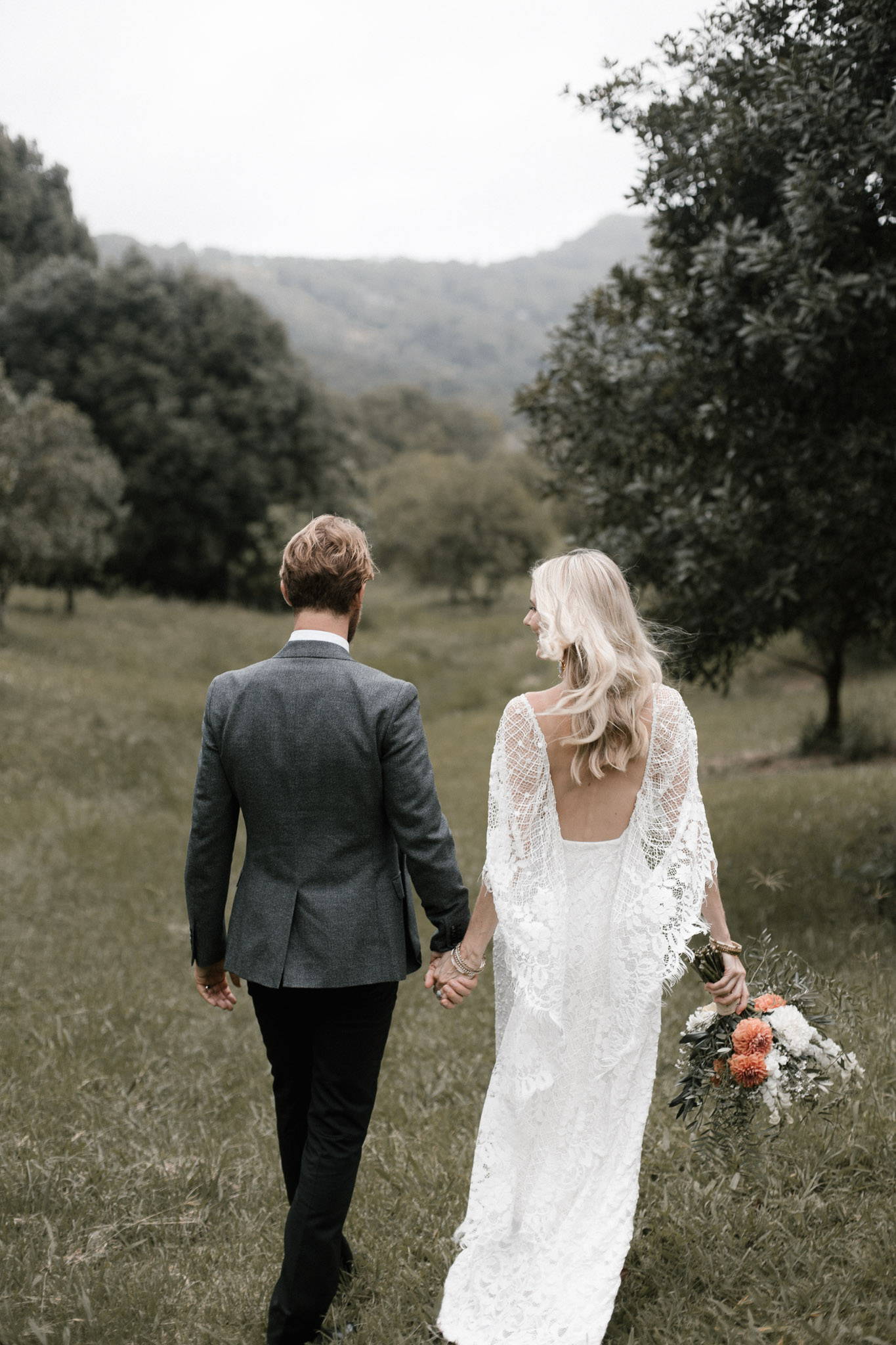 What is it you loved about your GRACE gown and accessories?
When I got engaged I already knew that I would be wearing a Grace Loves Lace dress down the aisle, it was just a matter of picking which one suited my style. After trying on a few designs, I picked the Verdelle 2.0 gown. This dress really caught my eye, I loved its beautiful stretch lace and over the shoulder lace detail which resembles a cape – because who doesn't want to feel like superwoman on their wedding day. My earrings were designed by Brisbane local Christie Nicolades.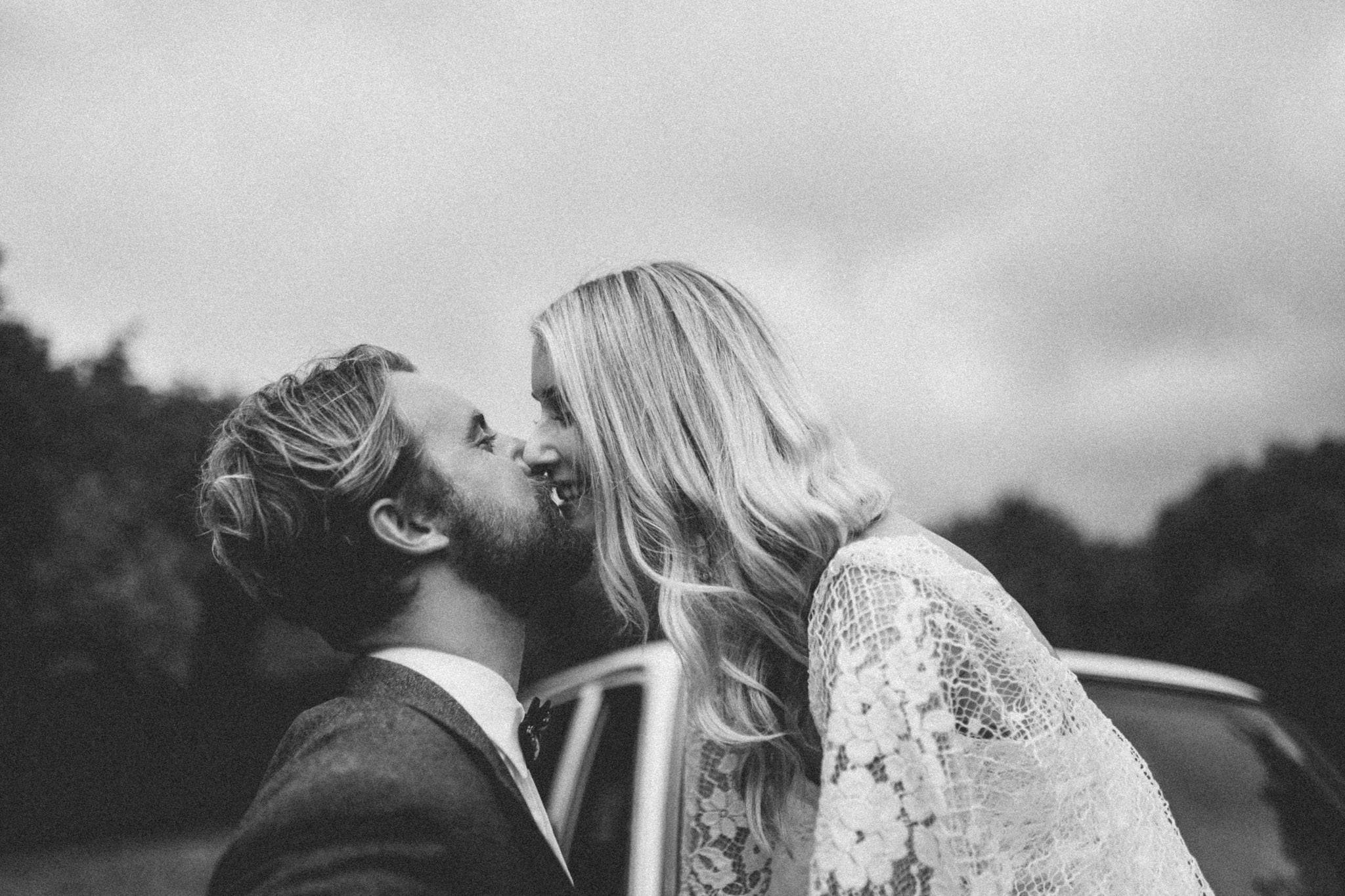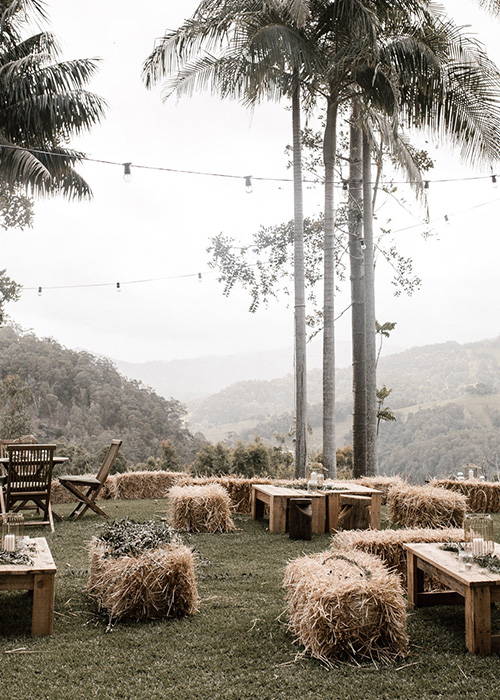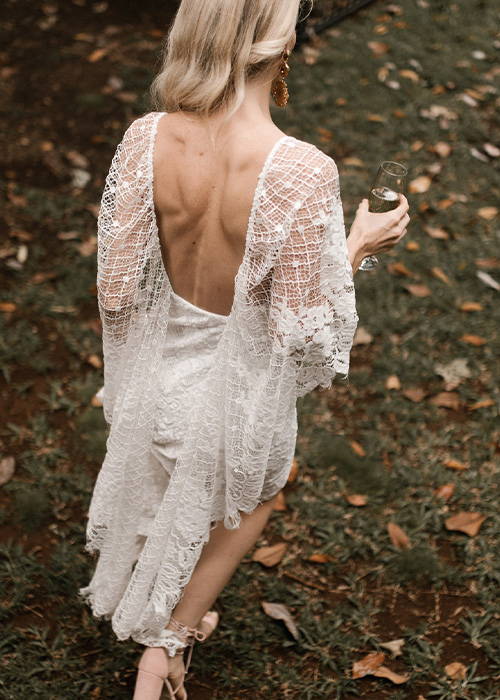 I received a call just as I was leaving work on a Friday afternoon, Mick was calling to tell me his car had broken down at Nobby's Beach and if I could swing by and pick him up. When I arrived at the spot, he was no where to be seen, so I called him to see where he was, which is when he told me that he was just a few steps away down on the beach. Mick, very casually said that I should join him on the sand. I got out of my car and walked the few steps to the top of the stairs before looking down at Mick on the sand surrounded by a dozen candles in the shape of a love heart. My heart skipped a beat and a huge smile spread across my face when I saw him standing there, I quickly met him on the sand and instantly he dropped to one knee, he didn't even have to say the words before my eyes started to well up. That was the day he asked me to marry him. 6 years earlier at exactly the same spot we had shared our first date. The proposal was so us, so simple, so meaningful and incredibly magical.
Describe your wedding day look…

Minimalistic, timeless, radiant.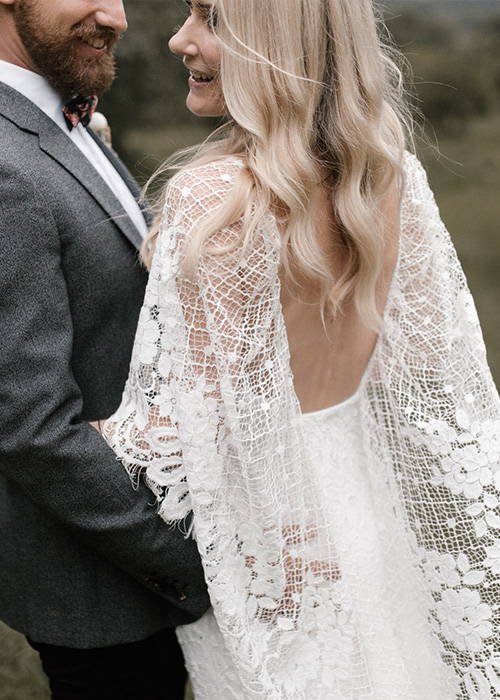 What was your goal for your wedding / what was the most important aspect to you?

We wanted to celebrate our love surrounded by the people we love the most. You will never again get to have so many people you care about in the same space, creating special memories and moments together. This, and of course having fun well into the night, is truly the most important aspect of the day.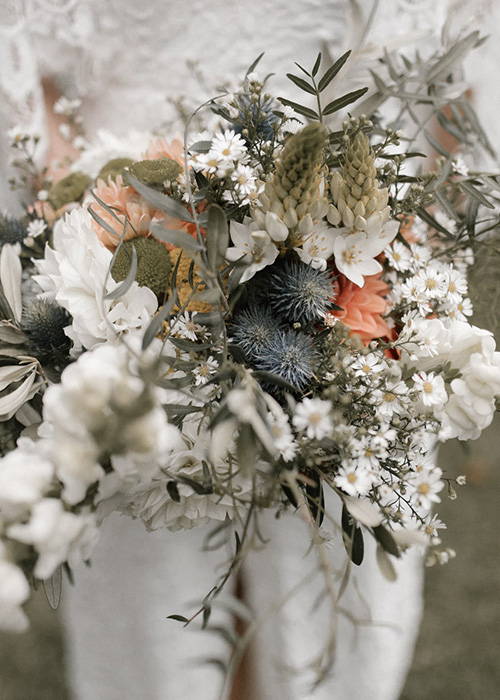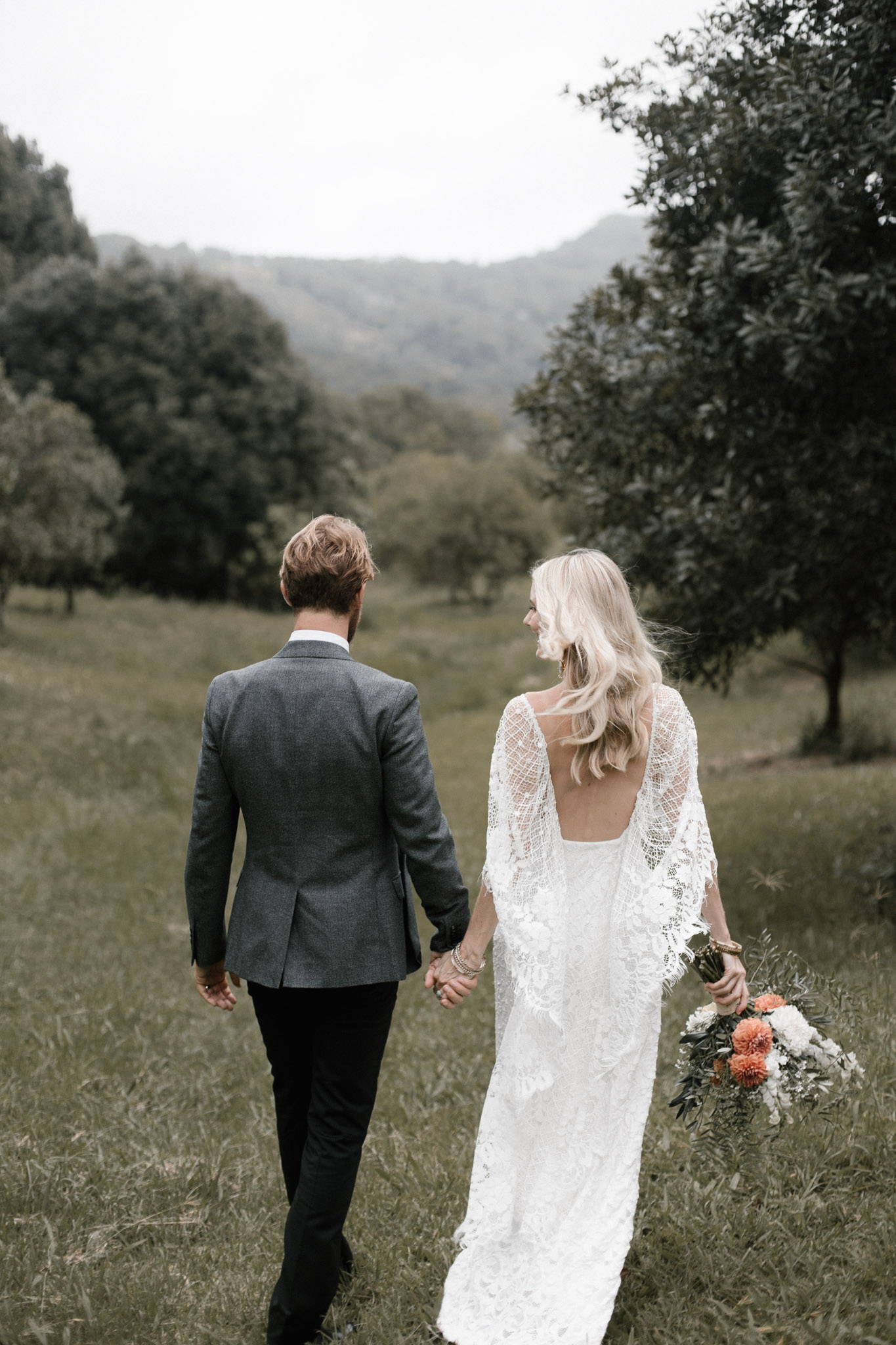 What was the most stressful part to planning?

As the homestead wasn't a proper wedding venue, our wedding day was 100% DIY. Which definitely created more stress but, for us, it was completely worth it as the day was a true reflection of our style and personalities.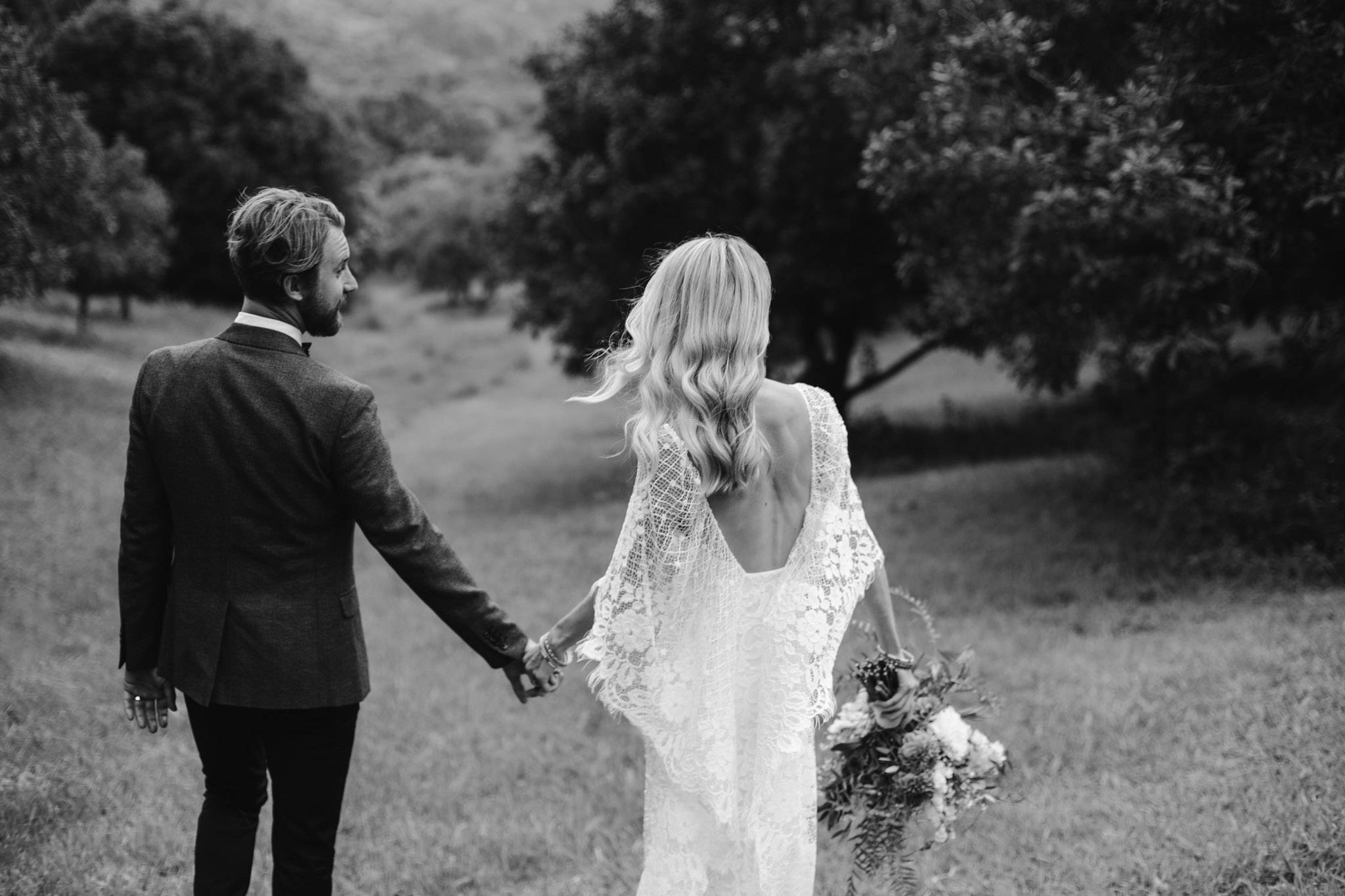 The funniest moment on the day was…

I wouldn't say funniest but definitely most memorable…
Our first dance. We didn't actually plan it. The closest we got to learning a dance routine before the wedding was watching Dirty Dancing and 'attempting' some of the moves, which landed us in hysterics on the floor. So on our wedding day we hadn't planned to do a first dance, so I was surprised to find myself swept onto the dance floor just after the speeches concluded. My husband grabbed my hand and swung me around a few times, before being surrounded by everyone we love on the dance floor. It was perfectly imperfect.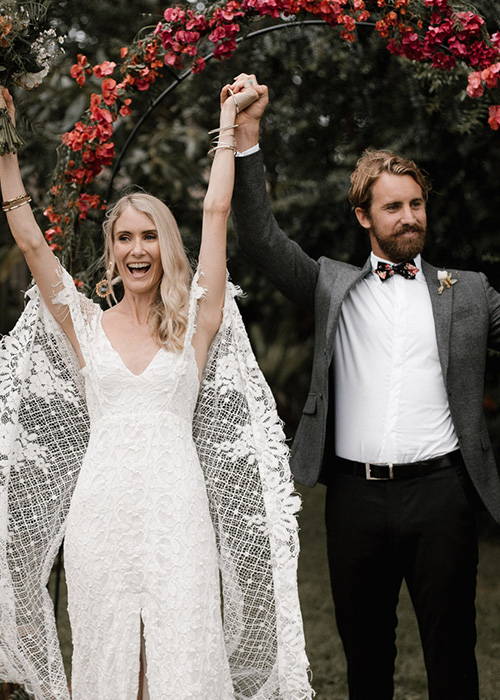 Any last advice or words of wisdom that you can share…
It was really beautiful to have our close friends and family so involved with the day. We had friends that helped out with setting up the venue the day prior, creating the bridal floral bouquets, and my sister made the wedding cake. It was amazing having the people we love adding their special touches to some of the smallest and biggest things involved with organising a wedding. So my advice would be; don't be afraid to ask for help, as I am sure your friends and family want to be involved in the preparation of your special day.